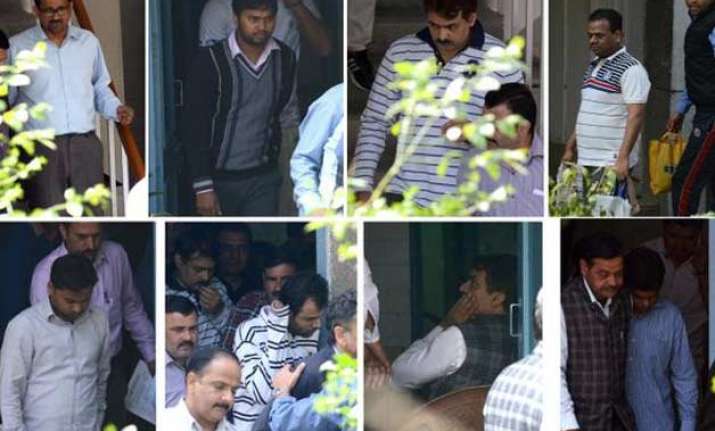 The sensational corporate espionage case, in which confidential documents were allegedly leaked, is getting serious and wider in scope day by day.
On Friday, the Delhi police arrested five executives including manager (corporate affairs) Reliance Industries Limited (RIL) Shailesh Saxena, DGM at Essar Vinay Kumar, Cairns India GM KK Naik, senior Jubilant Energy executive Subhash Chandra and DGM, Reliance ADAG, Rishi Anand. The court remanded the five arrested corporate executives in police custody till February 24 for further questioning. Additional Commissioner of Police (Crime) Ashok Chand, said all these company executives were receivers of the stolen documents which have been recovered by police teams during raids from their establishments.
Among the individuals involved in the racket, the case of Subhash Chandra, appears to be an interesting one. Chandra worked as a typist with the under secretary's PA at the ministry, earning a monthly salary of Rs 8,000. However, a report by Indian Express suggests that he quit in 2011, and joined Jubilant Energy as a senior executive the next year, with a monthly salary of Rs 1.5 lakh.
READ ALSO: Corporate espionage: Firms hired people with 'good contacts'
Chandra, who joined the petroleum ministry in 2008, allegedly used to leak confidential documents to several "agents" of the corporates. During interrogation, he reportedly told the police that he had befriended some of these "agents", who helped him develop contacts and get the job with Jubilant Energy.
Sources said Chandra developed a "good network" in the ministry, which he then reportedly used to bargain for a good position in Jubilant Energy. Chandra allegedly used his contacts in the ministry to access confidential documents and to pass them on to his seniors in the company.
The Indian Express report also said that Chandra fraudulently acquired an MBA degree before he joined Jubilant Energy as a senior executive.
The Delhi Police have also arrested brothers Rakesh Kumar and Lalta Prasad, who also worked temporarily for the petroleum ministry till 2012. They are alleged to have leaked documents to an agent, who has been identified and is likely to be called in for questioning soon. The duo reportedly received Rs 5,000-10,000 per document. Their father, Asharam, employed as a multi-tasking staff at Shastri Bhawan, is also among those arrested. READ MORE
Police sources said the two brothers quit their jobs with the ministry to become "agents" for corporates, while Asharam continued to work there.
Sources say, the five corporate executives who have been arrested — Shailesh Saxena, Manager Corporate Affairs, RIL; Subhash Chandra, Senior Executive, Jubilant Energy; Rishi Anand, Deputy General Manager, Reliance ADAG; Vinay Kumar, Deputy General Manager, Essar; and, K K Naik, General Manager, Cairn India — were in direct contact with Asharam, his two sons, and Ishwar Singh, also employed as multi-tasking staff at Shastri Bhawan.
The call detail records accessed by the police reportedly show that the five executives used to directly converse with them.