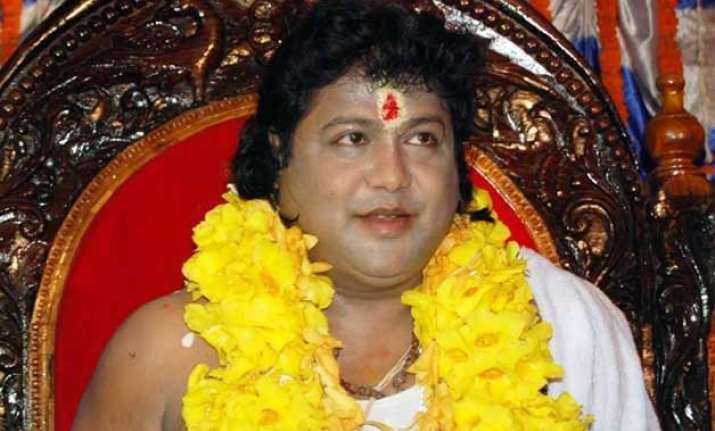 Bhubaneswar: For the last 15 years Santosh Raul alias Sarathi Baba had been taking donations from Biju Janata Dal ministers, MLAs, chitfund operators and contractors, to set up his huge empire worth more than Rs 300 crore.
As the interrogation of Sarathi Baba by crime branch officials proceeded, the baba is now disclosing his wide political and bureaucratic contacts in the present BJD government in Odisha.
So far 19 bank accounts of Sarathi Baba have been traced, with Rs 2.20 crore found deposited in these accounts. Crime Branch officials feel this figure could cross Rs 4 crore, after all the accounts are tabulated. Rs 17 lakhs was found in the bank account of Sarathi Baba's adopted son Satyam Raul.
On Tuesday, Congress MLA Debendra Sharma disclosed the names of BJD minister Atanu Sabyasachi Nayak and a former BJD MLA Utkal Keshari Parida.
Sharma alleged, in 2004-05 the then Kendrapara BJP MLA Utkal Keshari Parida had given Rs 40,000 grant to Sarathi Samiti based in Chandol Kharda Sahi. On June 20, 2008, the then MLA and present Health Minister Atanu Sabyasachi Malik gave Rs 30,000 to Sarathi Community Centre, Sharma alleged.
The Congress MLA further alleged that former BJD minister Pratap Deo gave Rs 15 lakhs in three instalments, Patkura BJD MLA Ved Prakash Agarwala gave Rs 40,000 to Sarathi Samiti in 2014.
The baba's associates named several state bureaucrats who used to visit the ashram and admitted that the baba used the bureaucrats in matters of land grabbing and muzzling the voice of local people.
The Baba had his ashram sprawled over 2.47 acres, but he had illegally grabbed nearly 10 acres land surrounding his ashram.
Crime Branch officials are also interrogating a noted contractor of Kendrapara Bijoy Rout to find out his alleged nexus with the baba in financial transactions.
Officials found a cheque of Rs 60 lakhs issued by the contractor Bijoy Rout in the name of Sarathi Baba. Rout told police that he had given the money as loan. Rout was again interrogated on Wednesday.
Several BJD politicians are worried over their alleged links with the contractor Bijoy Rout, considered as the baba's moneybag.
According to Congress MLA Debendra Sharma, Sarathi Baba had bought Premium Residency flat in Bhubaneswar worth Rs 55 lakhs for his son Satyam Shekhar Raul, but instead a cheque of Rs 76 lakh was issued in favour of the seller Sagar Roy's wife Sonam Sagar Roy.
Meanwhile, Crime Branch officials have received several documents relating to the stay of Sarathi Baba and his female companion at the Golkunda Hotel in Hyderabad. Details of the room number, his companion, bills, etc have been received.
On Tuesday, Crime Branch officials brought 13 'sevaks' face-to-face with Sarathi Baba for interrogation. Most of the sevaks disclosed how sex scandals were taking place inside the ashram. The godman was interrogated for the third time on Tuesday.
The associates admitted that they had earlier heard about the scandals, but they did not say anything out of fear. "We were working at his mercy and there was no question of disclosing these activities to others. The associates included drivers, maali, poojak, chowkidars and other minions.