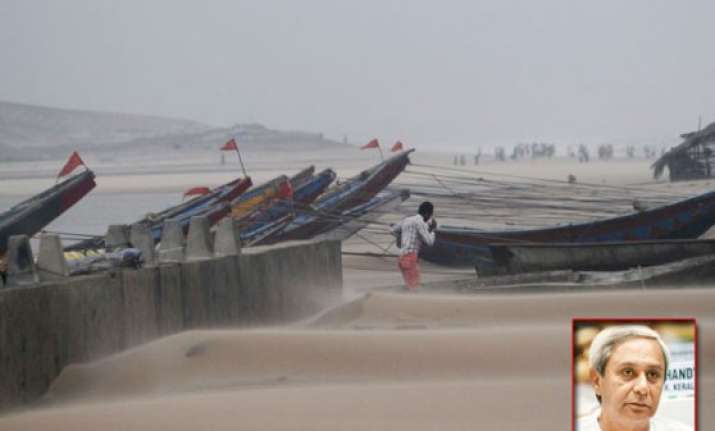 Bhubaneswar: Chief Minister Naveen Patnaik will conduct aerial surveys of cyclone Hudhud-hit parts of the state.
The Odisha Chief Minister is also slated to conduct an aerial survey of the Hudhud-affected areas of the state during the day, sources in the chief minister's office said today.
Patnaik will fly over the five districts of Koraput, Malkangiri, Rayagada, Nabarangpur and Gajapati. The Chief Minister is also scheduled to hold a review meeting at Koraput to take stock of the situation today, sources said.
Stepping up relief and restoration work in the affected areas in Odisha, the government is focusing on bringing back normalcy in road communication and electricity supply, a senior official said.
As life was limping back to normal in the four worst hit tribal-dominated districts of Malkangiri, Koraput, Raygada and Gajapati, the authorities were working on a war footing to put things back on the rail in affected areas where Hudhud damaged about 80,000 houses, power infrastructure and roads, the sources said.
As the very severe cyclonic storm hit Visakhapatanam on Sunday noon, the calamity had its impact on the southern region of Odisha close to Andhra Pradesh.
"Four districts -- Gajapati, Koraput, Malkangiri and Rayagada -- were badly hit by the cyclone while there is little impact on other southern districts like Ganjam, Kandhamal, Kalahandi and Nabarangpur," Special Relief Commissioner PK Mohapatra said.
Meanwhile, Prime Minister Narendra Modi, who is scheduled to visit Visakhapatnam for a first hand assessment of the situation in Andhra Pradesh, is also slated to make an aerial survey over southern Odisha districts hit by the cyclone.