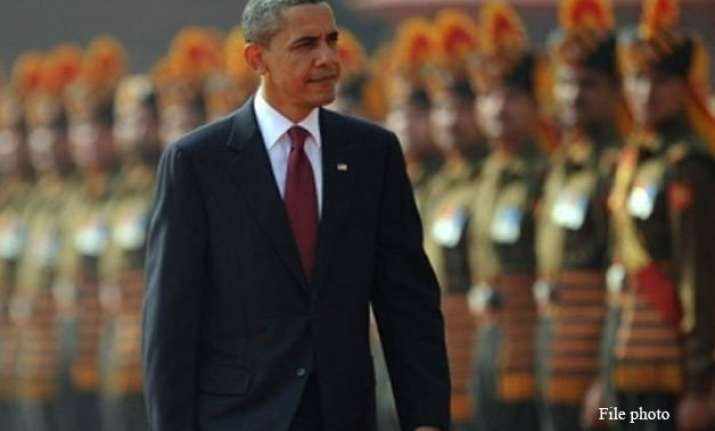 New Delhi: India has turned down the request made by security sleuths of US President Barack Obama that a 5-km no-fly zone be imposed around the Rajpath during the Republic Day parade because of heightened security concerns.
Indian authorities said a no-fly zone means 'no flypast' and cancelling this was not possible on the occasion.
In case it was implemented it could have robbed the Republic Day parade of much-watched and appreciated flypast of fighter jets, helicopters and surveillance planes over Rajpath in New Delhi.
This year, 18 fighter jets, five aircraft and 10 helicopters will take part in the flypast, flying at heights from 60-metre to 300-metre above the ground. It will include the Navy's first supersonic fighter MiG-29K as well as IAF fighters like Sukhoi-30MKIs and Jaguars.
 
This is first time that a US President is attending the Republic Day parade on January 26.
Sources said that there was a request from the US, but agreeing to that was not possible. "The flypast will be conducted and as per earlier decided protocol only twin engine planes and copters will be flying," a source said.
Throughout the year there is no-fly zone over the Raisina Hill which houses Rashtrapati Bhavan, South and North Blocks. The Prime Minister's official residence at Race Course Road and vicinities are also no-fly zone.
During the Republic Day parade, civilian flights in Delhi would also be affected for some 90 minutes but that happens on each Republic Day when the flypast is taking place.
The US President will also get an opportunity to see specialized military aircraft procured from his country like the C-130J 'Super Hercules', C-17 Globemaster-III strategic airlift and Poseidon-8I long-range maritime patrol aircraft.
As part of security measures, the advance team of US secret service had also sought the closure of Central Delhi and Delhi-Agra Highway for three days during President Barack Obama's visit to India. The President will be in India from January 25-27.