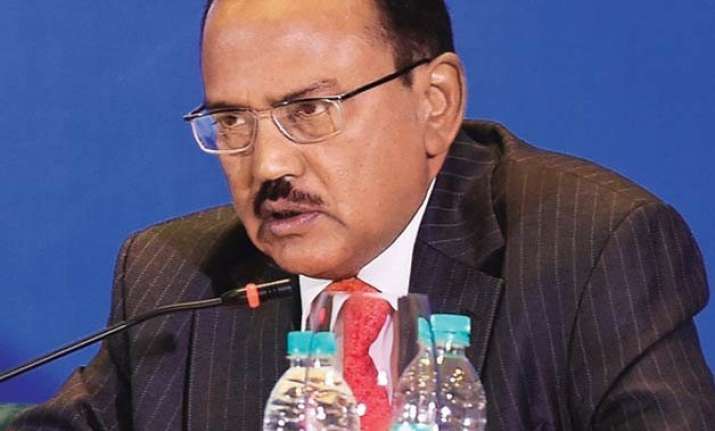 Greater Noida: National Security Advisor Ajit Doval today lauded ITBP troops for displaying exceptional courage and morale during their "face offs" with the Chinese PLA troops along the Sino-Indian border.  
Doval, who was the chief guest at the 54th Raising Day celebrations of the border guarding force here, said the troops deserve the compliments as they "did not leave their area" despite the other side conducting their activities and patrols which led to confrontation between the two sides.  
"The troops conducted their task with a great morale," he said.
The top official in the security establishment of the country said the government is alive to the challenges and issues faced by these troops and those in other forces and he he was very "hopeful" that the 7th Pay Commission and few other schemes that the government is framing for the men and women in combat will come about satisfactorily.
"Your problems have been put before the government and it will be our effort to do the best for you," he said while addressing the men and officers of the force at their camp here.
Praising the ITBP toops, Doval said it requires a very high degree of "mental and physical willpower and morale" to guard the border at sub-zero temperatures where oxygen is very less.
"The world admires you for your dedication to your duty despite working in very difficult situations," he told the men who guard the 3,488-km frontier from Karakoram pass in J and K to Jachep La in Arunachal Pradesh.
The NSA said a nation's biggest strength is the "morale" of its troops and armed forces and keeping this in mind, the force was raised in 1962.
"The concept of raising this force was undertaken under a special situation...it was the most difficult time for the country post-independence in 1962. The situation was troublesome....
"It was felt who will be entrusted with the task of guarding this most difficult border and you were chosen," he said while remembering how ITBP was raised in the aftermath of the Chinese conflict.
The Burtse and Despsang areas in Ladakh sector and few other locations in Jammu and Kashmir and Arunachal Pradsh have seen a number of incidents of transgression between Indian and Chinese forces which have led to long standoffs in the recent past.
The ITBP recently said this was because of "difference of perception" of the border between the two sides.