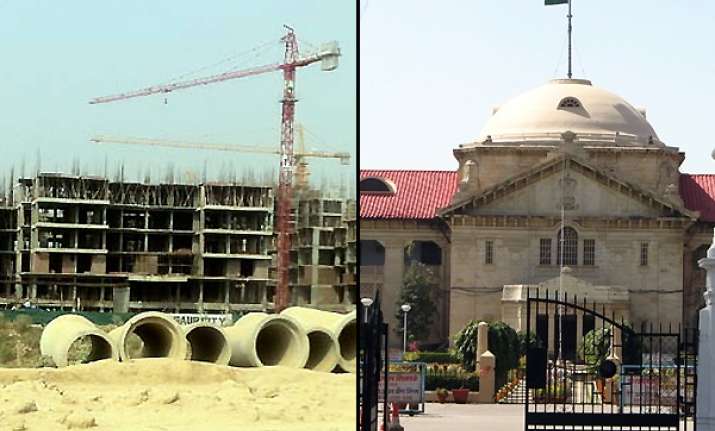 Noida, July 20: Members of Noida Extension Flat Buyers' Welfare Association are going to file a petition in the Allahabad high court before July 21, when petitions of about 5 villages in the area are listed for hearing, says a Business Standard report.

Farmers of these villages had filed a petition in the HC against the acquisition of their land by Noida Authority.

The Association would petition the HC to be made a party in the case and be heard before the court delivers its observation.

The July 21 hearing pertains to villages, including Bisrakh, Haibatpur and Ghangola.Earlier, the Supreme Court had quashed the acquisition of about 155 hectares of land in Shahberi village of Noida after hearing farmers' petitions.

"While the judgement in Shahberi case has affected 5,000-6,000 flat buyers, the fate of almost 95,000 flat buyers depends on remaining Noida Extension scheme and properties under development," NEFBWA treasurer Rahul Sharma  said.

On Monday, the association held its first meeting in Noida to chart its future course of action.

"About 2,000 flat buyers have already become our members and scores of others are joining us through online registration," Sharma informed.

A similar petition is also listed for hearing on July 20, farmers counsel Parminder Bhati said.

"Noida Extension spans almost 2,500 hectares, wherein most land was acquired from farmers at the rate of Rs 850/sq mt by invoking emergency clause," he claimed.

"The land was taken under the garb of industrial development and Knowledge Park, but was later allotted to builders at the rate of Rs 10,000-11,500/sq mt. Some land was also allotted as farm houses," Bhati added.

He further claimed over 50 per cent of the farmers had not taken compensation and want their land back.

"The farmers want their land back because its concerns their livelihood," he said.Asked if farmers would be happier lot if the new land acquisition policy of UP had covered them, Bhati noted the provisions of the new policy were not clear and were quite complex to comprehend.

Meanwhile, for nearly 26,000 flat buyers in Noida Extension the dream home has come crashing.

Not only is there now little prospect of their being relocated to another house in the area, they will also have to keep paying EMIs on post-dated cheques or risk being branded as defaulters.

The builders had offered to relocate the initial 6,000 affected buyers when Supreme Court upheld an Allahabad high court order cancelling the land acquisition in Sahberi village.

Tuesday`s order by the high court has shut the door on the option of shifting to another project.

Over 15,000 more buyers in the other villages of Noida Extension are living on tenterhooks with an impending sense of doom. Their fate is likely to be sealed by the time the week is over.

"I can do precious little in the present circumstances except to wait and watch. I will wait till the first week of August and then ask for a refund. If the entire Noida Extension area gets denotified, I will not have the option of relocating," said Jitendra Sindhi, a distressed buyer whose under-construction flat in the Neo Town project is located in the Patwari area.

"I booked a two-bedroom flat and have taken almost 80% loan for payment of the house till now. I do not know what will happen finally but I have little choice right now other than to wait till July 21 when the petition filed by Itehda village will be heard," complained Ajay Sethi, who has invested in a flat in the Panchsheel-I project that falls partly in Sahberi and partly in Itehda.

While builders are yet to give a firm commitment on how they plan to deal with the problem whose magnitude is increasing every day, bankers say they have little choice but to keep presenting the post-dated cheques for collection of EMIs.

Buyers have to cough up the instalments or get branded as a defaulter, which will cut off access to bank funds.

"Even if the flat is not delivered, the buyers have a personal liability. So, they have to pay or else banks will take legal action," said the chairman of one of the largest banks in the country.

He as well as his colleague at the head of another Mumbai-based bank said the lenders would try to resolve the issue.

The buyers, however, are a completely disillusioned lot.

"I have invested almost 45% of the cost of the flat and I was expecting to shift into it soon. I never bargained for this land row and that too for no fault of mine. If I cancel my booking for my flat, I will lose out on not only my money but also precious time as I will have to restart the process of having to locate another affordable home," said Kaushik Das, who feels he has little choice but to stick with the builder for now.

Many buyers, however, want to cut their losses now. They say it is time to quit as they see no light at the end of the tunnel.

"Things are not looking good after the Patwari denotification by the HC. Till now we were hoping that things would work out but obviously it is time to quit as there is no hope now," said Ravikant Pandey, whose dream home was shaping up in Mahagun MyWoods.

"I just want my money back now. I will never think of investing in Noida or Greater Noida again as there are too many problems here," said Anshuman Prusty, another buyer.

Buyers are also complaining of builders evading their queries.

"I have not got my refund and neither do I know the status of my booking. The developers are not giving me a hearing and keep telling me to get the information from their website. I really do not know what is going to happen to my money and my flat," complained Amitesh Mishra, who has cancelled his booking at Supertech`s Ecovillage-II.