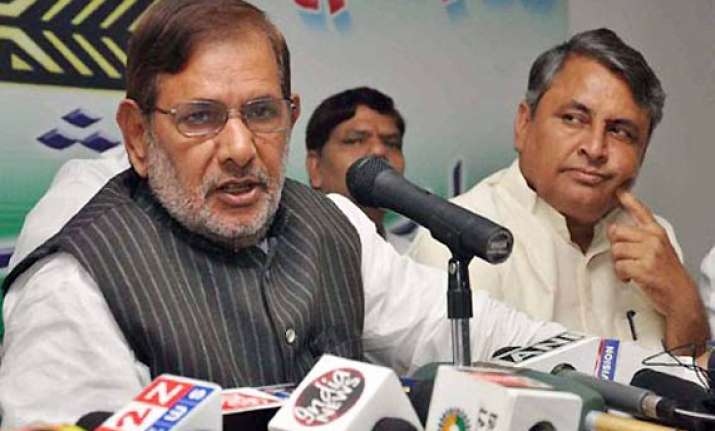 New Delhi, Dec 26: Marking the failure of seat sharing talks with BJP, Janata Dal (U) today said it will go it alone in Uttar Pradesh, a day after its NDA ally took a similar decision for the five poll-bound states except Punjab.

Incensed over refusal of its desired share of seats by BJP, the party said it will decide soon as to how many seats it will contest in UP now.

"This morning we decided to contest the elections separately in UP... For the time being, we have decided that the alliance (with BJP) will not happen for the UP elections," JD(U) chief Sharad Yadav told PTI here.

He claimed that he had talked to BJP Chief Nitin Gadkari and other senior leaders to resolve the situation.

BJP was, however, tight-lipped about the issue and only maintained that it was not aware of Yadav's decision.

JD(U) had indicated its willingness to contest 53 of the 403 Assembly seats under a seat-sharing arrangement with its NDA partner but the talks hit a roadblock when BJP announced its first list of candidates for UP, especially in seats JD(U) was keen to contest.

On the number of seats his party is planning to contest in UP, Yadav said, "We have called a meeting of all senior party leaders and we will decide our next course of action on 4-5 January."

Maintaining that the two NDA allies had several rounds of discussions to resolve the situation and arrive at an electoral understanding, he said the two parties had already exchanged their candidates list.

"During the discussions, we gave a list of 30-35 people to BJP leaders Mukhatar Abbas Naqvi and Rajnath Singh asking them to exclude these seats from their list and told them that if at all BJP wanted to contest these seats it should discuss it with us first," he said.

Denying that his party ever demanded 53 seats from BJP, Yadav said, "We never said anything like that. We only said that in the last elections we had contested 53 seats along with Apna Dal. We never demanded 53 seats."

"I don't understand who will take the decision in BJP. We talked to several leaders there but it was not clear as to how many seats they will give to us and how many they will contest," he said.

Meanwhile, BJP parried a direct reply on the development, maintaining that it is not aware of what Yadav had said.

"BJP has different types of alliances with its NDA partners at the state level..... But the party will never have any alliance with BSP, SP or the Congress in Uttar Pradesh," BJP spokesperson Shahnawaz Hussain said.

Despite the breakdown of seat sharing talks, party insiders said they were still hopeful of a patch-up as a senior BJP general secretary was in touch with JD(U) on the issue to keep the alliance intact.

"We are likely to give JD(U) around 20-22 seats in UP.  BJP will also work on an alliance with a regional party in the state," a party leader said.