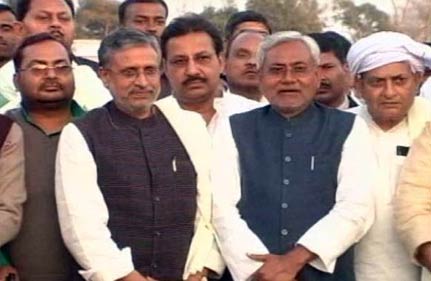 Patna, Nov 26: Nitish Kumar, the trained engineer for whom the development mantra spun magic, has his task cut out to further change the face of Bihar riding on a massive mandate that has raised expectations.
As the 59-year-old chief minister, who took guard today for a second innings, savours the victory on the back of a personal commitment to good governance and socialist principles, the soft spoken politician remains unwavering in his mission to make Bihar one of the leading states.
Often called Chanakya for his political astuteness, Kumar blended his secularist ideology with pragmatic politics and combined the development plank with innovative social engineeering equations to get a rare four-fifth majority for his JD(U)-BJP alliance.
Kumar with his trademark kurta pyjama and grey stubble has become RJD strongman Lalu Prasad's nemesis single handedly contributing to the electoral meltdown of RJD-led Secular Democratic Front for the second time in five years.
Beating the anti-incumbency factor, the JD-U leader, a socialist of Ram Manohar Lohia mould and a product of the JP movement in the seventies, has been the mascot of NDA's fight against the 15-year Lalu-Rabri rule in Bihar ending their reign in 2005.
He also had a brief seven-day tryst with Chief Ministership in March 2000 when he was sworn in despite NDA lacking a majority.
For all the complex arithmetic of caste and creed that holds sway in election-time Bihar, Kumar was able to alter, if not altogether change, the discourse, hammering day after day on development and what he calls "naya Bihar." Improvement in law and order also came in handy for Nitish as he strode an impoverished state like a colossus.
Kumar worked on social engineering equations on the ground to woo the extremely backward castes, the mahadalits and in pockets of poorer muslims carefully fashioning an alliance of these groups though there was virtually no mention of caste in his campaign speeches.
A seasoned and a down to earth man of simple tastes, Kumar, the wily craftsman of modern day politics, did the delicate balancing act keeping votaries of both hardliners in his party JD-U and BJP together notwithstanding his strong views on job reservations for OBCs and dalit muslims.
Considered an able administrator, Kumar's innings in the corridors of power began with his appointment as Union Minister of State for Agriculture and Cooperatives in the National Front government led by V P Singh in 1990.
Despite being instrumental in installation of Lalu Prasad as Chief Minister in 1990, Kumar's relations with the Yadav strongman came under strain in the years that followed, largely due to 'imperious' style of functioning of the RJD chief.
When NDA government was formed in 1998, Kumar became the Railway Minister with additional charge of Surface Transport portfolio. He, however, resigned owning responsibility for the Gaisal train disaster near Siliguri in West Bengal in August 1999 which claimed hundreds of lives.
Kumar was later accommodated in the Union Cabinet and was Agriculture Minister from November 1999 to March 2000 and again from May 2000 to March 2001 before heading the Railway Ministry for a second time from March 2001 to May 2004.
In between, he was the Chief Minister of Bihar for seven days from March 3, 2000 to March 10 and was also instrumental in  the merger of Samata Party with JD(U) which enhanced the influence of the two Socialist-leaning parties vis-a-vis BJP.
Kumar plunged into student politics during his days at Bihar College of Engineering and was a key leader of 1974 Students' Movement under legendary Jayaprakash Narayan which culminated in the  fall of Indira Gandhi regime and installation of the first  non-Congress government in the country in 1977.
Kumar got a Janata Party ticket to contest the Assembly election from Harnaut in his native Nalanda district but lost despite an anti-Congress wave sweeping almost the entire country.
Luck did not smile on him again in 1980 Assembly polls when  Congress staged a remarkable comeback after the failed Janata Party experiment. Though his contemporaries like Lalu Prasad and Ramvilas Paswan tasted electoral victory to enter the Lok Sabha in 1977, success was slow in coming for the son of a 'vaidya' Kaviraj Ram Lakhan Singh.
His legislative career began in 1985 when he got elected to the Assembly from Harnaut.
Clear-headed and articulate, Kumar made his mark as one of the most effective speakers and his proximity to Haryana jat leader Devi Lal enabled him to secure a ticket to contest 1989  Lok Sabha elections from Barh against Congress heavyweight and former Union Minister Ramlakhan Singh Yadav whom he defeated.
There was no looking back since then as he has got re-elected to the Lok Sabha without a break and currently represents Nalanda constituency in the house. PTI