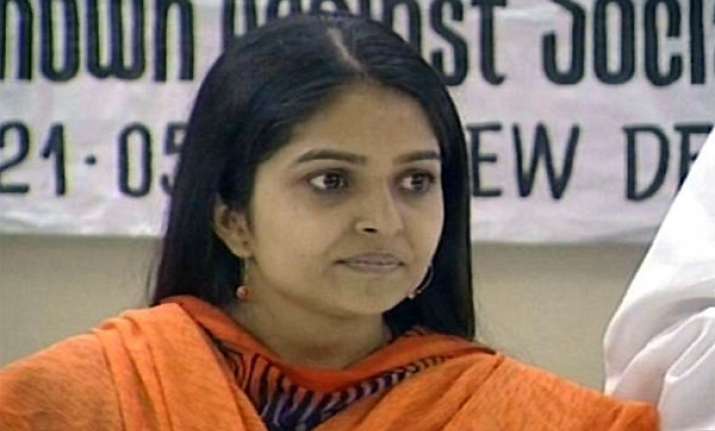 Noida, Mar 1: Nine years after he was arrested for demanding dowry, a local court on Wednesday acquitted Munish Dalal, his mother and aunt in the Nisha Sharma case for lack of evidence.

The case hit the headlines in 2003 when Nisha Sharma refused to marry Dalal at the eleventh hour alleging that the bridegroom's family had demanded dowry. Nisha Sharma was then hailed for her courage.

Nisha's father DD Sharma  had alleged the groom's parents had demanded additional dowry.

Following this, Munish Dalal, his mother and aunt Savitri Sharma were arrested. They were released on bail a few months later.

Chief judicial magistrate Vipin Sharma on Wednesday  acquitted them due to "lack of strong evidence". Nisha Sharma's advocate said they will challenge the order in a higher court.

Dalal's family had all along maintained that Nisha called off the wedding because she wanted to marry one Navneet Rai.

Rai had also claimed that he married Nisha at a temple and had produced some documents. Nisha had instead lodged a cheating case against Rai. The court also acquitted Rai.

"Citing lack of strong evidence, the CJM gave the benefit of doubt to the accused and ordered their acquittal. The prosecution also could not prove the documents produced by Rai were fake," said SN Verma, senior prosecution officer.

Nisha Sharma, a resident of Sector 56, Noida, overnight became an anti-dowry icon after she called off her wedding at the last minute. In November 2003, she married a resident of Modi Nagar.

After his acquittal, Munish Dalal said, "I have suffered a lot in these nine years. But as the judge read the acquittal lines, the first thing that came to my mind was that truth has won."

He said the 60 days he was in jail was the "most horrible period" of his life.

His mother Vidya Dalal said, "The court has pulled us out of hell and I thank God for that."

"I was working as a teacher and was to retire on May 31 of that year. Due to this episode, my gratuity and PF has not been released after all these years."