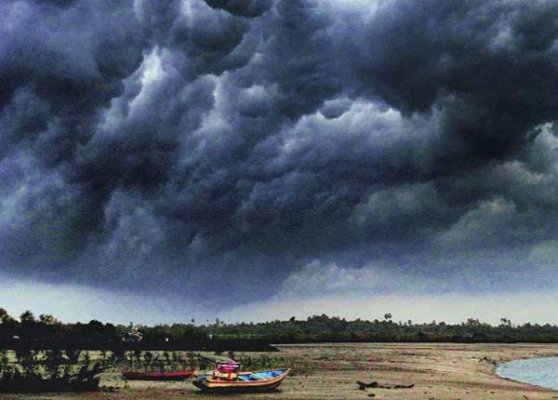 New Delhi: Cyclonic storm Nilofar, building in the Arabian Sea, is expected to hit Gujarat coast on the night of October 31 or November 1 early morning, the Met department said.
Nilofar will first make landfall near the Jakhau port and Naliya in Kutch, the IMD said, adding that the Saurashtra and Kutch region may receive 10 inch rainfall.
It will cross the coast as a marginal cyclonic storm with a wind speed of 40-50 km per hour.
Gujarat Minister Tarachand Chheda said that the state government is taking effective measures to tackle the situation. He said that the evacuation of people from coastal and low-lying areas has started and fishing operations have been suspended.
An estimated 30,000 people along coastal areas have so far been evacuated.
The Indian Coast Guard (ICG) has activated cyclone monitoring cells and deployed 30 ICG ships, helicopters to tackle the situation. State Emergency Operation Centre, Gandhinagar has set up Ham Radio system. NDRF has set up HF system for smooth exchange of details from inside the remote coastal areas of Kutch district.
National Disaster Response Force (NDRF) has alerted three more battalions based in Vadodara, Pune and Bhatinda for relief and rescue works. Seven teams of NDRF are already deployed in Kutch and Saurashtra with fully equipped boats.
BSF personnel have been also asked to stay alert and check any suspicious activity or movement on the border so that no infiltration can take place during the bad weather conditions.
According to the Met department, Nilofar would have mild affect in Maharashtra, Rajasthan, Goa, Kerala, Karnataka, Daman and Diu and Lakshadweep. It has also predicted that Rajasthan's border districts of Barmer, Jalore and Jodhpur will receive rainfall on October 31.
Meanwhile, there are also reports that Nilofar could cause damage to crops like Bajra, Gawar, Moong cereal and Soya bean which were harvested and lying in the open field.