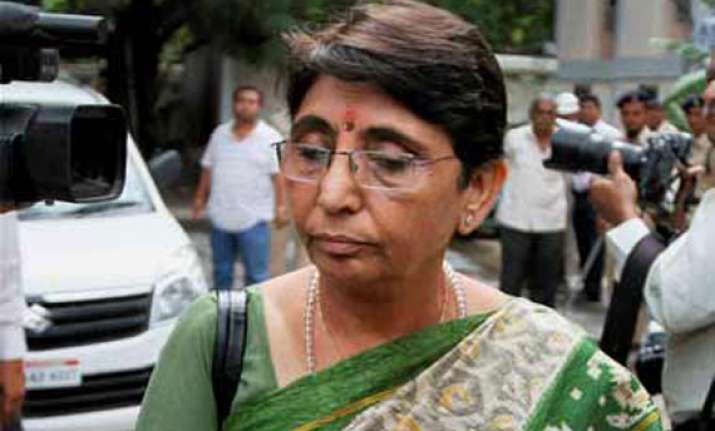 Ahmedabad, Nov 26: The Gujarat High Court today admitted the appeal of former state minister Maya Kodnani, who challenged her conviction in the case of Naroda Patiya massacre during the 2002 post-Godhra riots.
Kodnani was on August 31, 2012 awarded 28 years imprisonment by a Special Court, which also gave a life term till death to Babu Bajrangi in the Naroda Patiya massacre--the worst of 2002 post-Godhra riots-- in which 97 people were killed.
30 others were also convicted and sentenced to different jail term in the case.
The division bench of Justices R R Tripathi and R D Kothari today passed an order admitting her appeal.
In her appeal, filed through advocate Hardik Dave, Kodnani claimed that, "prosecution has failed to prove beyond reasonable doubt that appellant (Kodnani) has committed any of the offences for which she was charged."
She was held guilty under sections 120(B)(criminal conspiracy) and 302(murder), among other sections of the IPC.
She also argued that, "special court has grossly erred by believing the depositions of witnesses and by discarding duly proved contradiction and omission brought on record in the depositions of the witnesses."
She prayed before the court to quash and set aside both the judgement of conviction and order of sentencing.
On August 29, Special Judge Jyotsana Yagnik had convicted 32 people while acquitted 29 others accused.
Other 26 convicts too had filed their appeals but it is yet to be heard by the court for its admission.
In the verdict, while terming Kodnani as the 'kingpin' of the Naroda Patiya riots, the court had also observed that, "communal riots are like cancer on constitutional secularism and the incident in Naroda Patiya was a black chapter in the history of the Indian Constitution."
Kodnani, a three-time MLA from Naroda area, who was considered to be close to Modi, was the first woman to be convicted in a post-Godhra riots case.
The massacre had taken place a day after the Godhra train burning incident of February 27, 2002.
On February 28, 2002 when a bandh call was given by the Vishwa Hindu Parishad (VHP), a large crowd had gathered in the Naroda Patiya area and attacked people belonging to minority community that resulted in the death of 97 people, while 33 others were injured in the violence.