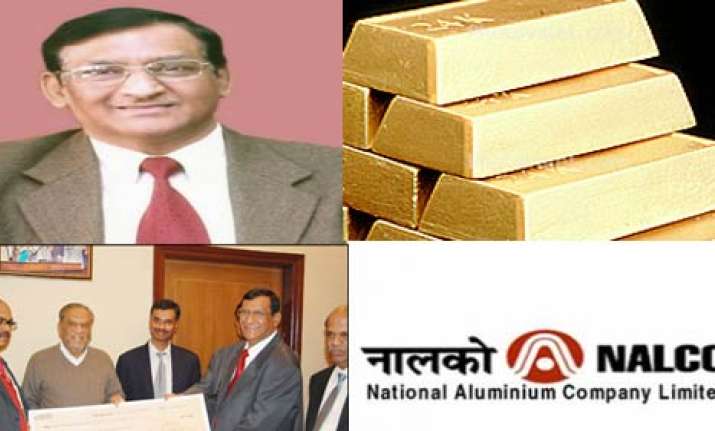 New Delhi, Feb 26: The chairman and managing director of the public sector Navaratna company National Aluminium (Nalco) Abhay Kumar Srivastava and his wife Chandni were arrested on Friday by CBI sleuths while accepting 10 kg gold bricks as bribe.
Each 10 kg gold brick of 24 carats costs  more than Rs 2 crore in the bullion market.  
CBI sleuths seized Rs 30 lakh cash and the 10 kg gold brick during raids. The CBI said Srivastava was caught taking bribe from a Madhya Pradesh based private group of companies through an intermediary. The intermediary Bhushan Lal Bajaj and his wife Anita have also been arrested. 
CBI sleuths arrested the CMD's wife Chandni as she came out of the Bank of Maharashtra Branch near UPSC office in Delhi on Friday. She was carrying Rs 5 lakh cash in her handbag and the keys of her bank locker and that of the intermediary's locker.  
"The CBI arrested the Nalco CMD when he got his wife to accept an illegal gratification of three 24 carat gold bricks, each weighing one kg. His wife had accepted this illegal gratification from the wife of a middleman who was brokering a deal between the CMD and a Madhya Pradesh-based private group of companies", the CBI press release said.  
The bank locker being operated by the CMD's wife  had been opened in Anita Bajaj's name to avoid detection. The CBI tam nabbed both Chandni and Anita after they had deposited the gold bricks in the bank lockers.  
The CBI officials further searched the bank lockers to recover  seven more gold bricks of 1 kg each, 188 gram gold ornaments and Rs 9.5 lakh in cash.  
The total recoveries so far have been  10.188 kg gold and Rs 29.5 lakh in cash, the CBI press release said. 
The overall value comes to nearly Rs 2.43 crore at the current gold rate, the CBI spokesperson said.  
All the four accused are being questioned to find out the black money trails. Searches in the Bhubaneswar residence of Srivastava, where the Nalco head office is located, are continuing.Srivastava took ove as CMD of Nalco in October, 2009. Prior to that he was the CMD of Cement Corporation of India.