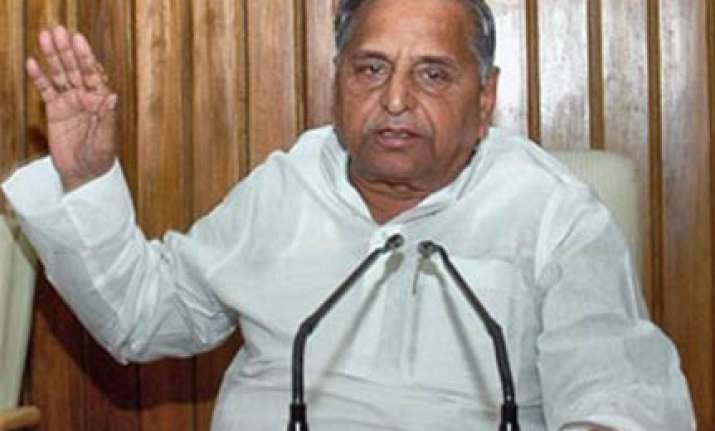 Undeterred by all round criticism of his "sexist" remarks on the women's reservation bill, Samajwadi Party supremo Mulayam Singh today said that whatever he had said was "intentional" and not just a slip of tongue. 
"Whatever I said was intentional so that poor, farmers and workers should get angry and there is a debate on the Women Reservation Bill. These words should hit their minds," he said here while addressing a meeting of party men, including MPs and MLAs. 
Yadav on Thursday had said that only women belonging to affluent class including those from the families of industrialists and bureaucrats would get the benefit of the reservation bill and they would be the women youth would whistle at on the streets. He drew flak from women's groups and political parties for his statement which was described as "sexist", Taliban-like and Yesterday his party spokesman sought to defend Yadav saying his statement was misinterpreted and he had only meant that the bill would make the youth dawdle on the streets. Yadav said that he was least bothered about the attack on him and the party. 
"We are being attacked continuously, but I am not bothered. The only thing we want is that there should be a debate and reality should reach the people," he said. Terming the criticism of his statement as a propaganda, Yadav said that besides BJP and Congress even the Communist had joined the team of baiters. 
"The comment intended to tell poor, farmers and workers that how bad select people (affluent class) feel and how they react when something is said about their women," the SP supremo said. 
Maintaining that he did not intend to insult anyone, Yadav said   "I want to tell those, who are opposing us on the bill that SP gave maximum tickets to women and maximum candidates won the party symbol," he said. "Those who are opposing me on this issue are the same people who had opposed Mandal report," Yadav said. 
He said that SP always struggled on the issue of atrocities against women. "We are the people who struggled for the cause of women and even face the police baton," he said. He said that even the party workers should discuss the issue and realise as to how the party was being ignore by those in the power. 
The SP supremo said that in the present format of the bill, women hailing from poor, farmers and labour class families would never be able to reach the Lok Sabha or state assembly. PTI