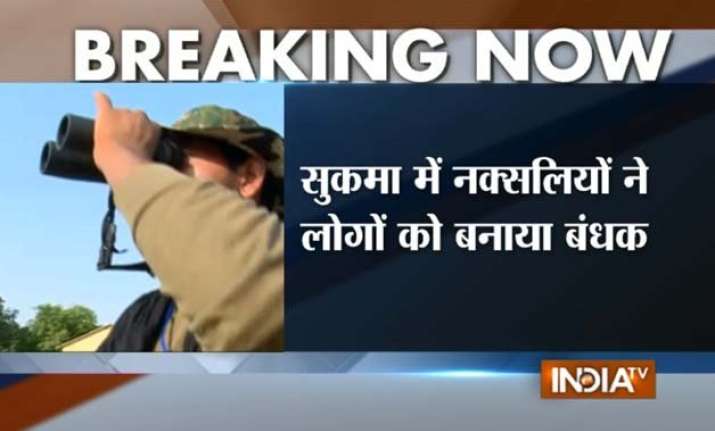 Raipur: Prime Minister Narendra Modi is today on a day long visit to Naxal-affected Dantewada district of Chhattisgarh to take stock of socio-economic development initiatives being taken there.
This is Modi's first visit to the region after becoming the PM last year.
Here are the LIVE updates:
This is not true: RK Singh (Former Home Secretary) on reports of villagers held hostage by Naxals in Sukma
Chattisgarh government denies report of villagers being held hostage by Naxals.
Naxalites blow up a railway track in Dantewada district
Just before Prime Minsiter Narendra Modi's visit to Naxal-affected Dantewada district in Chattisgarh, Maoists have held 500 people hostage in Marenga village of Sukma district.
According to early reports, the villagers were on their way to attend PM's rally when Naxalites held them hostage. A local BJP leader Shrichand Sundrani has confirmed the reports however, more information is awaited.
PM Modi answers questions by students.
PM Modi addresses students at Saksham Vidyalaya in Dantewada's education city.
In the wake of Modi's visit, Naxalites have called a two-day bandh in the region to oppose the PM's visit.
Ahead of the visit, Dantewada district was converted into a fortress. A 17-layer strong security cover has been provided for PM in the Red Zone. Apart from 200 COBRA personnel, around 15,000 jawans of National Security Guards (NSG) and Paramilitary forces are being deployed in the area.
PM Modi will inaugurate two mega projects for setting up of ultra mega steel plant and second phase of Rowghat-Jagdalpur railway line, state government officials said.
The Prime Minister will be visiting an education city, aimed at providing education to under-privileged children living in the area. Modi will also be interacting with the students there, they said.
The education city spread across over 100 acres and built at the cost of approximately Rs 120 crore provides residential and classroom educational facilities.
It is estimated to serve almost 5,000 most deprived children of the region every year by providing them the opportunity to have quality education.
Modi will also visit a livelihood college, that has been imparting necessary skills to youths living in Dantewada region to help them get suitable employment opportunities.