Follow us on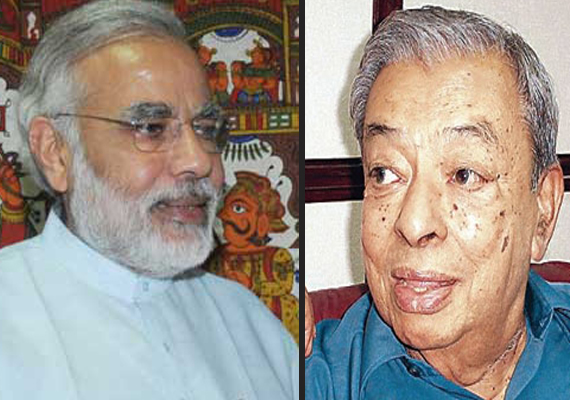 Vadodara, Sep 11 : Gujarat chief minister Narendra Modi had a public spat with India's milkman Verghese Kurien on January 5, 2004 during a Krishi Mela at Anand, which soured their relationship in later years, reports The Hindustan Times.
Kurien  was sharing the dais with Modi at the inauguration of the Krishi Mela.
At the function, Kurien remarked, "At the time of Gujarat's formation in 1960, there was only one CM and seven ministers. It is important to reduce the size of the government because a government is best that governs the least."
He also referred to a remark made by a World Bank  executive from Japan, who attributed India's backwardness to "the quality of governance and the corrupt and inefficient administration." Kurien had also criticized the government decision on splitting the Gujarat Agricultural University.
Kurien's remarks were applauded by the audience but not by Modi, who said, "We have only recently arrived in governance. The people (Congressmen) with whom you (Kurien) have been for years, are responsible for this".
He continued, "After years of suppression, we have got into the habit of taking certificates from foreigners. Should we be taking certificate from this lady in Japan who came here for only four days."
Not stopping at that, he said, "I cannot ask Kurien saheb that when Amul began, how many people were employed and what is the staff strength now. Should I ask him? Can I?"
Two years after this public spat, Kurien was forced to step down as founder chairman of the Institute of Rural Management - Anand (IRMA), which he had founded.
In January 2009 again, Father of India's White Revolution had to face the wrath of Modi's government when the state registrar of cooperatives sent a notice to GCMMF asking the cooperative to withdraw facilities like car, cook and security guard - provided by the federation to its founder. GCMMF officials approached Modi and ensured that their goodwill gesture continued.
On Sunday, when Dr Verghese Kurien's dead body was kept for public view at Amul Dairy's Sardar Patel Hall,  it was expected that  Modi would come to pay tribute to India's milkman.
Modi was just 20 kms away in Nadiad for the inauguration of the new collectorate building and could have very well come personally to pay his tributes.
The Anand district control room had got a message that the CM may arrive in Anand after 2 pm. But that did not happen.
Pradeepsinh Jadeja, the minister of state for legislative affairs, was the only man from Modi's ministry who turned up to pay his last respects.