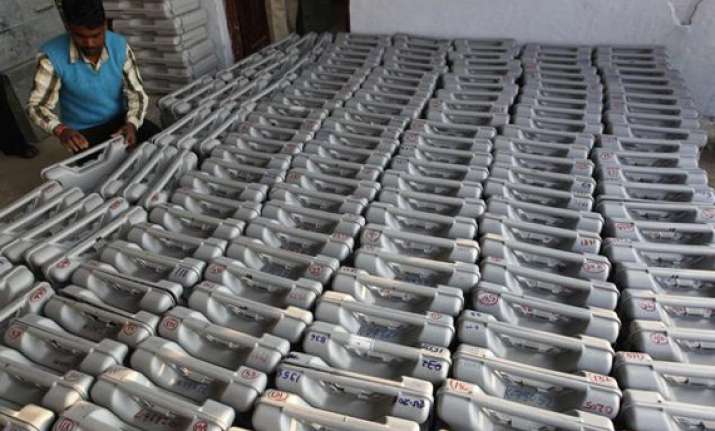 Kendrapara (Odisha): A mob today manhandled senior government officials in Odisha's Kendrapara Lok Sabha constituency where elections were held yesterday, alleging attempts to tamper votes as an EVM-loaded vehicle was spotted in front of an officer's residence.
Tension mounted when an EVM-loaded vehicle was spotted parked in front of the official residence in the town of a block development officer (BDO) Sushant Kumar Pati. The EVMs had Kendrapara Lok Sabha and Mahakalpada Assembly written over them, sources said.
Smelling foul-play, local people and opposition party workers allegedly beat up Marshghai BDO Pati and pelted stones at his government quarter. Later Pati was rescued by police, sources said.
The mob, comprising locals and opposition party workers, turned violent as they suspected that the government officials and  police were hand in glove behind storing EVMs of a particular assembly seat in the official residence of the officer instead of being deposited at the strong room last night after voting was over.
"EVMs should have been despatched to the strong room. Even 18 hours after the polling ended, EVM loaded vehicle had not reached its destination. It is clear that the EVMs were kept for tampering purpose", alleged BJP Lok Sabha candidate, Bishnu Chandra Das.
Kendrapara Collector Nitin Bhanudas Jawale said, "The EVMs spotted near the quarters of the official were reserve machines. Those were sent to various booths of Mahakalpada assembly constituency so that it could be put to use when any EVM turned dysfunctional. There was no mala-fide intention in storing the EVMs. However, it should have been sent to strong room earlier. The concerned BDO has been asked for an explanatory reply to the delayed despatch of unused EVMs to the strong room".