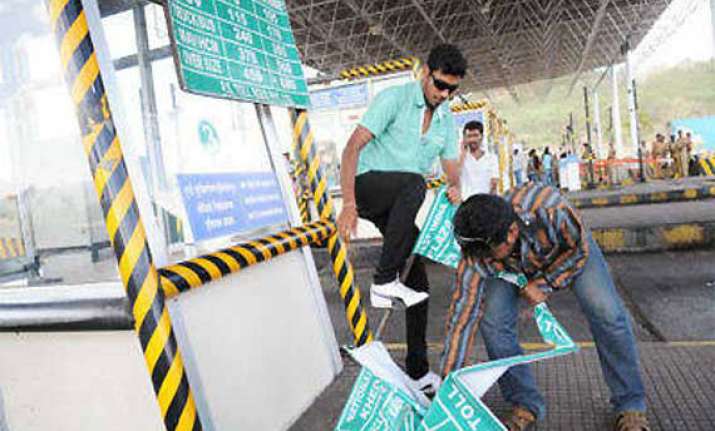 Mumbai: Maharashtra Navnirman Sena (MNS) workers ransacked a toll plaza along the Bhiwandi bypass road on Thursday.
The incident took place in MNS chief Raj Thackeray's presence. In the  past MNS activists have destroyed several toll booths across the state as part of Thackeray's campaign against collection of toll, but this is the first time that they did so inthe  presence of their party chief.
The incident was triggered after toll staff asked MNS leader Kalpana Kapote to pay the mandatory toll.
Kalpana Kapote was travelling to Kalyan when she crossed the Kharegaon toll naka.
The toll manager and an employee spoke to her very rudely and made indecent gestures after Kapote denied to pay the toll tax.
Later Kapote called almost 150 MNS activists to the spot.
Reports say,  Raj Thackrey arrived at the incident spot as he was traveling to Nashik via the same route.
Thackeray's convoy stopped when 200 people people gathered there to welcome him. Suddenly, they began raising slogans and smashed the glass panels of the toll naka though Raj Thackeray tried to stop his workers from the act of violence.
Police officials said, Thackeray proceeded towards Nashik later.
Thane Police arrested 10 MNS activists for vandalizing the booth.