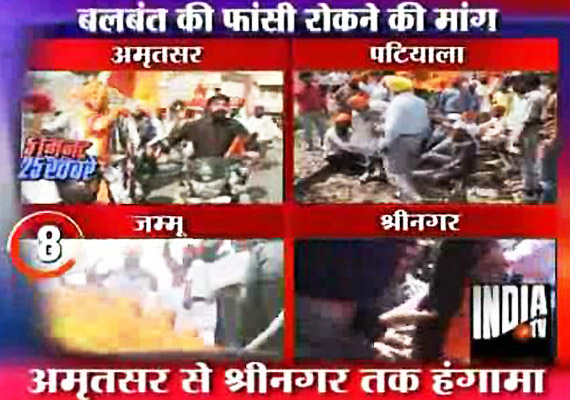 Chandigarh, Mar 28: Skirmishes between Sikh protesters and right-wing Hindu activists took place at Jalandhar and Patiala today during a day-long bandh called by radicals in support of Balwant Singh Rajoana, convicted in the Beant Singh killing case.
Several Sikh protesters stopped the Shane-e-Punjab express train near a crossing close to Jalandhar, police sources said here.
Police personnel immediately swung into action following which the protesters pelted stones on them after which the police cane-charged them in order to make them disperse.  
At the Arya Samaj Chowk in Patiala, the Shiv Sainiks had a tiff with the protesters following which they threw stones at the right-wing Hindu activists.
After police intervention, the protesters and right-wing Hindu activists dispersed from the spot.
Tension prevailed during the Bandh call at Gurdaspur town when some shopkeepers at Bata Chowk asked the police to provide security to open their shop but the Sikh organisations forced the shopkeepers to remain close their shop.
They also forced the authorities of Axis bank to close the branch. The tension was defused when police disperses the agitators, a report from Batala said.
AISSF President Karnail Singh Peermohamed said at Moga that the people had responded to the bandh called by various Sikh bodies and the state remained peaceful.
Rajoana is lodged in the Central jail at Patiala area around which had been turned into a fortress.  
As per a Sessions court here, Rajoana, convicted for the assassination of late Punjab Chief Minister Beant Singh in 1995, is scheduled to be hanged on March 31.  
Meanwhile, an uneasy calm prevailed at several places in Punjab where security has been put on high alert to prevent any eventuality.
Ruling SAD and its religious wing SGPC is pitching for clemency to Rajoana.
SAD patron and Punjab Chief Minister is scheduled to meet the President on the issue this evening at the national capital.
The radicals have already urged people to maintain peace and communal harmony in the state during the bandh period.
Meanwhile, a report from Sangrur said that the protesters at Mahavir Chowk blocked road traffic raising slogans in favour of Khalistan (separate Sikh homeland).  
The protesters also blocked road traffic at Kakarwal Chowk at Dhuri and ITI Chonk Sunam raising slogans against execution of Rajoana.
The protesters also jammed rail traffic at Ahmedgarh, the reports said quoting officials.
At Bathinda several youths could be seen riding triple with saffron flags and raising slogans of 'Khalistan Zindabad' and forcing every shopkeepers and other business establishment to shut down its work in the city.
Clashes among the protesters and traders also took place at several places where 'saffron turbaned people' broke away the glasses and other installed equipments of the work places which were open, officials said.
The activists of Akali Dal (Amritsar) and other Sikh organisations sat on dharna at the Ropar-Chandigarh road and blocked traffic, police sources said.
Members of various sikh organisations also took out a protest march from Gurudwara Singh Sabha in Ropar.
Meanwhile, in Jammu and Kathua districts, Sikh community today took out a protest rally in Jammu winter capital city and demanded conversion of death sentence into life imprisonment to Rajoana, who is convicted of killing former Chief Minister Beant Singh.
"We appeal to the President and Prime Minister to convert the death sentence of Rajoana into life imprironment", one of the members of Sikh said.
Similarly, a protest was held by the Sikh community in Kathua district and also blocked Jammu-Pathankote national highwayfor one and half hour.
Various sikh organizations, including women and children, lodged protest and raised supporting slogan in favour of Rajoana to convert the death sentence in life imprisonment.