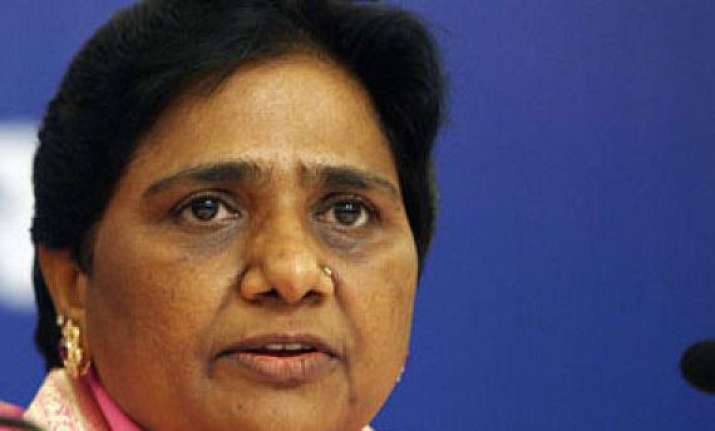 Lucknow, Nov 15: In a bid to outsmart rivals ahead of the Assembly elections, Uttar Pradesh Chief Minister Mayawati today announced bringing a resolution in the House for carving out four new states in the winter session beginning next week.

Addressing a press conference here, she said that the cabinet has approved a resolution for creation of Purvanchal, Bundelkhand, Awadh Pradesh and Paschim Pradesh which would be tabled in the session beginning November 21.

Seeking to throw the ball into the Centre's court, where the Congress heads the UPA coalition, the Chief Minister maintained that as per Schedule 3 of the Constitution, the Centre has to take a decision with regard to renaming, reorganisation or creation of new states.

However, she said that as no positive initiative has been taken so far, the cabinet has decided to get the resolution passed and send it to the Centre hoping for a speedy action on it.

The Chief Minister, who had earlier written a letter for reorganisation of the state to the Prime Minister maintaining that it was not in the jurisdiction of the state, today said that this decision has been taken after proper consideration to mount pressure on the Centre.

This demand is also in keeping with the aspirations and ambitions of these regions, she said.

Uttar Pradesh has 80 Lok Sabha MPs and an Assembly with 403 MLAs.

Mayawati's move today is seen as an attempt by her to cash in on the sentiments in favour of small states in the western and eastern regions and the Bundelkhand area of the state during the Assembly elections.

Parties like Rashtriya Lok Dal (RLD) headed by Ajit Singh have been campaigning for small states like Harit Pradesh comprising the western region.

Mayawati's main rival, Samajwadi Party, is strongly opposed to the division of the state, while Congress has sought to counter her demanding that she take the initiative.

Without making it clear whether it was in favour or against such a move, the BJP has favoured setting up of a States Reorganisation Commission to go into demand for smaller states.

Stressing that reorganisation of the state would help in all-round and balanced development and give a better future to the people, Mayawati said that Uttar Pradesh as per the 2011 census has a population of over 19 crores which means that almost 16 per cent people of the country live here. 

It is also among one of the biggest states going by its area, she said, regretting that because of the wrong policies of earlier state and central governments led by Congress, BJP, Samajwadi Party and others, the state could not witness all-round development and lagged behind.