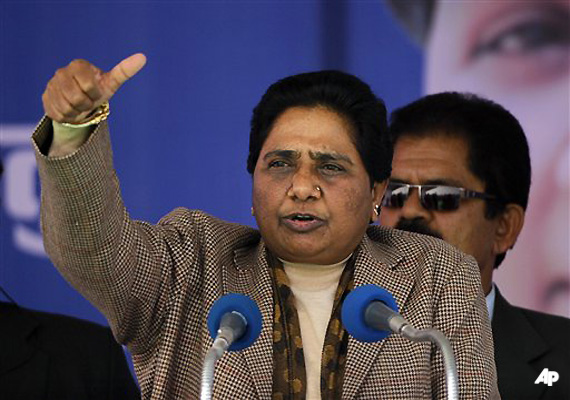 Sonebhadra (UP), Feb 11: Accusing Congress of ruining Uttar Pradesh in over 40 years of its rule, BSP chief Mayawati today said the party should be ashamed of seeking votes in the name of development in the state.

She also took potshots on the Congress' stand on Batla House encounter, saying the party was befooling Muslims by raking up the issue at the time of elections.

"Had the Congress wanted, it would have ordered probe into the Batla House encounter to ascertain the reality behind it. As the party is out of power in the state for the past 22 years, it is using the issue for political gains", Mayawati said addressing an election meeting here.

"The party (Congress) should be ashamed of asking for votes in the name of development as it has ruined the state in its over 40 years rule," she said.

Claiming that her government had demanded Rs 80 thousand crore for the state's development from the Centre, Mayawati alleged it "did not pay heed to UP's demand."

Charging the central government with having a "casteist mindset", she said it was because of this that the UPA government did not give any package to the state and hindered welfare works of her government.

"The Centre did not take any initiative to deal with the recurring problem of floods in the purvanchal region of the state", she said.

Lashing out at the opposition parties, she said Congress, SP and BJP were unable to digest that BSP governent has successfully worked for the welfare of all sections of society.

Making an appeal to the electorate to vote for the BSP, she said those playing with the sentiments of people should not be allowed to come to power.