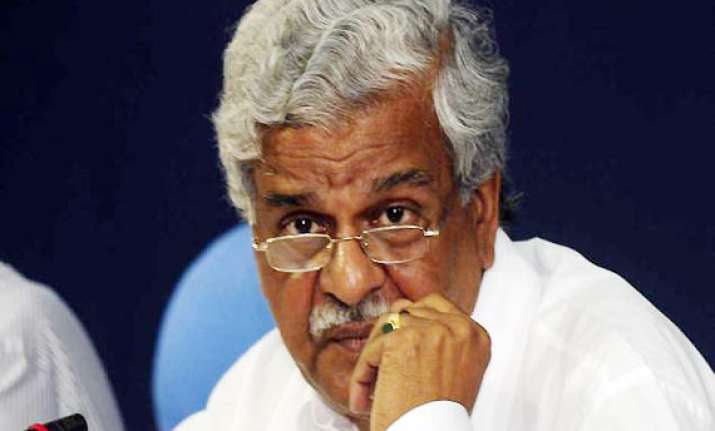 Kanpur/New Delhi, Mar 26: Coal Minister Sriprakash Jaiswal courted controversy by saying that many government departments suck blood like mosquitoes but he clarified today this remark was not aimed at the Finance Ministry.
"For only 100 crore rupees revenue I realise how much you will have to go through. Like mosquitoes in the night, in our country there are some departments that also suck blood," he said yesterday at an event in Kanpur where he backed the bullion traders demand for a roll back of the budget proposal to hike duty on jewellery.
"The government should devise another way to collect Rs 100 crore revenue, we (businessmen) will pay that," he had said.
Blaming the media for the controversy over his statement on the excise duty hike on jewellery, Jaiswal today said his statement on sucking blood was "in connection with many government departments and not the Finance Ministry."
"Some channels have shown that I have made some comments on the Finance Ministry. It is unfortunate that channels don't show (the correct picture)," he told reporters at the Parliament House complex in Delhi.
In his clarification, Jaiswal asserted "I had said that in many departments officials harrass businessmen, suck their blood, this is unfortunate.
"Many departments suck blood of employees, businessmen but I had not said in connection with the Finance Ministry."
Finance Minister Pranab Mukherjee downplayed Jaiswal's apparent opposition to the budget proposal to hike excise duty on jewellery, saying the Coal Minister has "clarified" to him about his statement and "it is absolutely nothing".
"No, no ... he (Jaiswal) told me, it is absolutely nothing. He has clarified it," Mukherjee told reporters.
Bullion traders in various parts of the country are on strike since March 17 in protest against budgetary proposals of doubling import duty on gold and imposition of excise duty on unbranded jewellery.