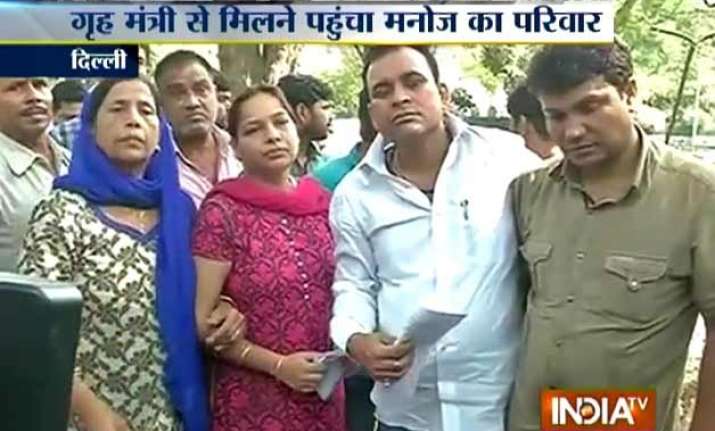 New Delhi: Family of Manoj Vashishtha, who was killed in an encounter at restaurant in Rajendra Nagar, met Union Home Minister Rajnath Singh at latter's residence today.
After the meeting, Priyanka, wife of deceased, said that the minister assured them of fair train in the incident.
Singh told the family that he has given directions to form Special Investigation Team (SIT) to look into the matter. Post-mortem of Manoj will also be videographed.
Yesterday, the family met Delhi Chief Minister Arvind Kejriwal and demanded for justice. Following the meeting, the government ordered a magisterial inquiry into the alleged killing.
Delhi Govt orders magisterial probe into killing of Manoj Vashishtha
The alleged encounter took place on Saturday night at a restaurant in Central Delhi's Rajender Nagar area.
Vashishtha, who was wanted in several cases of fraud and other crimes, was hit by a bullet in a gunbattle with a team of Special Cell of Delhi Police.
"Vashishtha was a wanted criminal and carried a reward on his head. We had received a tip-off that he would be coming to Sagar Ratna restaurant in New Rajender Nagar, following which a trap was laid. When he reached at the spot, Manoj, sensing police presence, opened fire on our men. When the team fired back in self-defence, one bullet hit him and he was injured," Special Commissioner (Special Cell) SN Srivastava had said yesterday.
Cops gun down criminal in Saturday night shootout in central Delhi restaurant
Vashishtha was taken to a nearby hospital where he was declared brought dead, the police officer said. Vashishtha's wife Priyanka and brother Anil had earlier accused the police of staging a "fake encounter". They claimed that Vashishtha was not a hardened criminal.