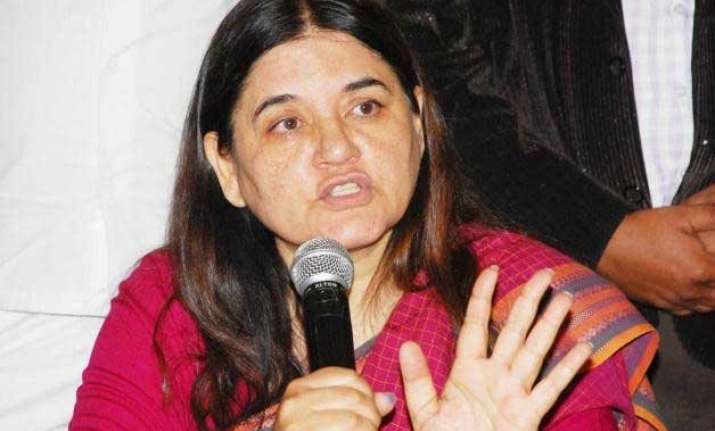 New Delhi: Amidst a raging debate over her remark on making sex determination tests mandatory, Women and Child Development Minister Maneka Gandhi today sought to defend herself saying that the idea was in the discussion stage and that there was no formal proposal or a Cabinet note on the issue of allowing for prenatal sex determination.
"Minister WCD clarifies that there is no Cabinet proposal for tracking the sex of a foetus and that compulsory determination of foetal sex is an idea given by some stakeholders," WCD ministry wrote on micro-blogging website Twitter.
The explanation makes a departure from her earlier comment suggesting that such a test should be made compulsory to check female foeticide.
Speaking yesterday at an event in Jaipur, Gandhi had said that the tests were necessary to ensure safety of the girl child. "In my personal view, the woman should be compulsorily told whether it is a boy or girl child whom she is going to give birth to. I am just putting out this idea. It is being discussed though there is no conclusion yet," she had said.
The minister's suggestion, which would eventually result in lifting of the ban on prenatal sex determination under PCPNDT Act, evoked sharp reaction from activists and netizens. "At least the present law has maintained a certain level of fear with respect to sex determination even among the rural and illiterate populace," read one tweet.
"#India sex-ratio-918. Need of the hour is investing in changing d social cultural environment rather than scrappingban on #sexdetermination," said another.
In view of the raging debate, the ministry also issued a statement today asserting that while such an idea had been mooted, there was no Cabinet proposal in this regard. The ministry said the matter needs to be debated further and invited views and suggestions in this regard.
"She (Gandhi) had specifically stated that this needs further debate and had requested the media persons to give their suggestions," the statement said. The idea behind mandatory registration of the gender of unborn child is to enable proper monitoring of his or her birth, it said.
"It is an alternative point of view that if each pregnancy could be registered and the sex of the foetus could be made known to the parents and if the same happens to be a female, the delivery should be tracked and recorded. Such a system would help in ensuring that a foetus is not aborted only because it is a female," the statement said.