Follow us on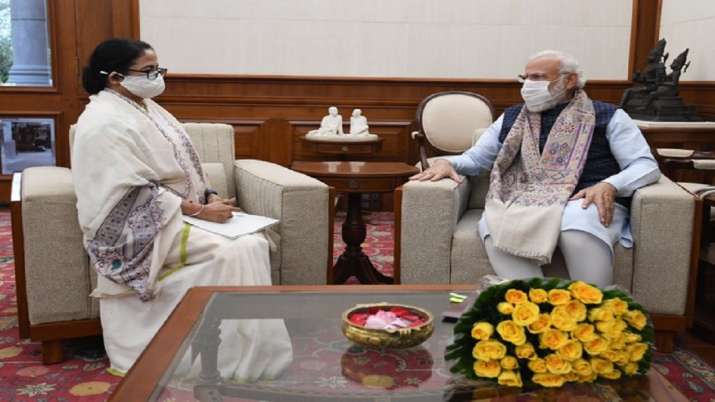 Highlights
Mamata Banerjee will stay in the national capital till November 25
Her visit comes ahead of winter session of Parliament which is scheduled to begin on November 29
Banerjee had told the media about her meeting with PM Modi on Monday
West Bengal Chief Minister Mamata Banerjee on Wednesday met Prime Minister Narendra Modi in New Delhi. Mamata raised the Issue of the BSF's territorial jurisdiction in the state and demanded that it should be withdrawn. During the meeting, Mamata also invited PM Modi as the Chief Guest for a Business Summit in April, which he accepted.
"Giving more powers to BSF leads to confrontation in law and order with the state police. We are not against BSF. It is not right to disturb the federal structure without any reason", Mamata told the PM.
In the meeting, Mamata asked for a policy from the central government wherein there is no gap between both Covid-19 vaccine doses.  West Bengal's jute industry was also brought up during the meeting. 
Mamata Banerjee will stay in the national capital till November 25. Reports said that she could also meet Congress president Sonia Gandhi, however, the meeting has not been confirmed.
Banerjee's visit to the capital is taking place days ahead of the winter session of Parliament which is scheduled to begin on November 29.
The BSF, which was only empowered to take action up to fifteen kilometres in the states of Punjab, West Bengal, and Assam, has now been authorised to extend its jurisdiction up to 50 km without any hurdle or permission either from central or state governments.
Banerjee opposed the move as in October she said that the West Bengal government, like the Punjab government, is also protesting against the Centre's decision to increase search and arrest jurisdiction of BSF in border states.
She said law and order is a state subject and West Bengal's borders with Bangladesh were completely peaceful. The Chief Minister also said her government will go by the "state laws".
(With inputs from ANI)
Also Read | 'Only Mamata Banerjee has potential to defeat BJP,' says new TMC entrant Ashok Tanwar