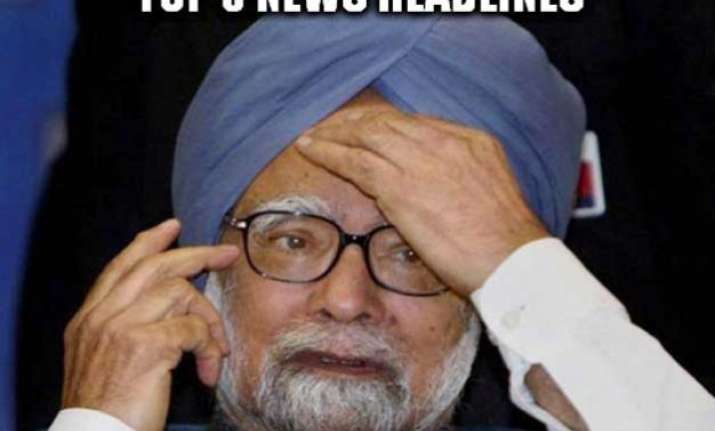 Delhi High Court today backed L-G Najeeb Jung in his tussle with Kejriwal government.
The High Court turned down the plea challenging the constitutional authorities of Lieutenant Governor Najeeb Jung.
Delhi HC, however, asked L-G to consider proposals sent by Kejriwal government.
The then coal secretary, H.C. Gupta, concealed material facts related to allocation of a coal block in Jharkhand's Rajhara town from the then prime minister Manmohan Singh, who also held the coal portfolio, the CBI told a court here on Friday.
Advancing arguements on the issue of framing of charges, Senior Public Prosecutor V.K. Sharma told Special Judge Bharat Parashar that Gupta concealed facts related to Jharkhand's Rajhara North coal block allocation, involving Vini Iron and Steel Udyog Ltd. (VISUL), Manmohan Singh.
A series of tweets have been exchanged between Rahul Gandhi, Congress Vice-President and Smriti  Irani, Union Minister.  It all started after the Office of Rahul Gandhi tweeted.
IIT student group banned for criticizing Modi Government. What next?  And followed it by another tweet.
A radioactive leak was detected in the cargo area of the Indira Gandhi International (IGI) Airport in Delhi today. The radioactive substance had come from Turkey.
However, later in the day, atomic regulatory board and Delhi government said that "no radioactive substance leak at Indira Gandhi International Airport".
The death toll in the sweltering heat sweeping many parts of the country climbed to 1826 on Thursday, with 414 lives being claimed by the scorching sun in Andhra Pradesh and Telangana since Wednesday.
In Andhra Pradesh, the toll rose to 1334 on Thursday, 314 more than Wednesday. The death figure in Telangana on Thursday stood at 440 against 340 on Wednesday. So far, 43 deaths have been reported from Odisha, 7 seven from Gujarat and two from Delhi.