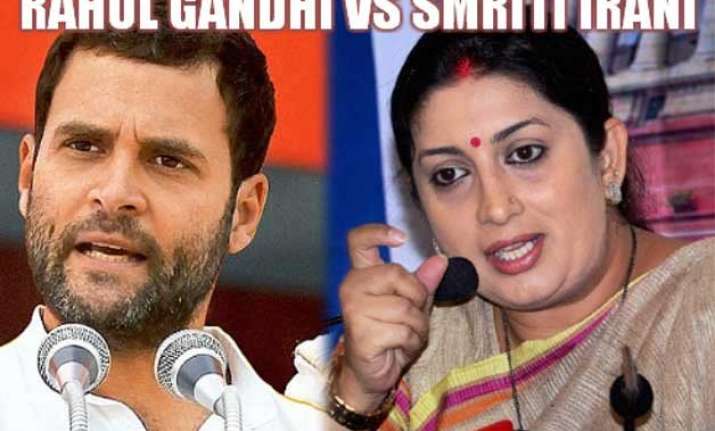 New Delhi:  A series of  tweets have been exchanged between Rahul Gandhi, Congress Vice-President and Smriti  Irani, Union Minister.  It all started after the Office of Rahul Gandhi tweeted
IIT student group banned for criticizing Modi Government. What next?  And followed it by another tweet.
Free speech is our right. We will fight any attempt to crush dissent and debate: Rahul Gandhi.

Few minutes later  Smiriti Irani tagged Rahul Gandhi and addressed couple of tweets to Congress Vice President.

@OfficeOfRG yesterday u told NSUI to create disorder where there is order. Today ur goons come to my house as I'm away at work. This tweet was followed by

@OfficeOfRG give me a time n place n I'm ready to debate everything re governance including education.
The whole twitter battle broke out between both the politicians after reports of   controversial move to curb free speech, Indian Institute of Technology (IIT) Madras has banned a discussion forum of students after an anonymous complaint that the group tried to spread "hatred" against Prime Minister Narendra Modi.
Smiriti Irani contested the 2014 general elections against Rahul Gandhi in Amethi constituency of Uttar Pradesh.  Irani lost to Gandhi by 107,923 votes, a 12.32% margin. On 26 May 2014, Prime Minister Narendra Modi appointed her as the Minister of Human Resource Development in his cabinet. At 38, she is the youngest member of the cabinet.