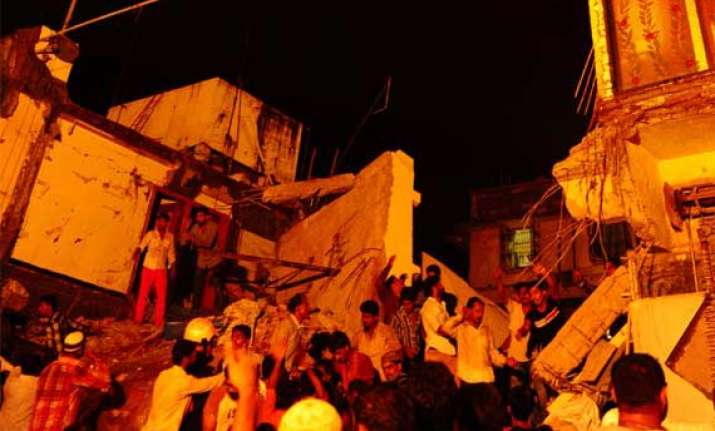 Mumbai, Jun 18: Mumbai police have named BMC officials and a shop-owner in Altaf Manzil among others in connection with the partial collapse of the four-storeyed building in suburban Mahim last week that killed 10 persons, police said today.
The portion of Altaf Manzil caved in on June 10, apparently due to incessant rains and the illegal alterations, resulting in the tragedy.
The FIR, registered on June 15, has named sons of the erstwhile landlord of the building - Irafan Furniturewala, Sharif Furniturewala and Mohammed Furniturewala, besides Iqbal Ibrahim -the owner of the shop and the basement on the north side, Sandeep Bafna - the lessee of the shop and basement on the south side, officials of the G/North Ward and officials attached to the BMC head quarters.
All the accused have been booked under sections 288 (negligent to conduct with respect to pulling down or repair building), 304 (culpable homicide), 336 (act endangering life or personal safety), 338 (grievous hurt), 34 (common intention) and 120b (criminal conspiracy) of the Indian Penal Code, police said.
According to the FIR, the Furnuturewalas did not get the Registration of Conveyance done and delayed it. And since the conveyance was not done the co-operative society could not be established which lead to the inability in maintaining the building.
The FIR also said that Ibrahim bought the basement of the society located on the northern side and leased it out to Bafna.
According to the FIR, Bafna in collusion with Ibrahim brought out the structural changes of the building with out any permission knowing that it could endanger the structure and the persons living there.
The BMC officials were also named in the FIR because they did not act on unauthorised structural change.
Prominent lawyer Rizwan Merchant, who lost his wife, son and mother in the collapse, said that he had been communicating to the BMC about the structural changes made since 2008.
Merchant said that BMC joined hands with the accused and took no action on his complaints.
"The first letter was written on November 10, 2008, I stated that there were structural changes brought by Bafna but yet no action was taken against him", he said.
He said that Bafna removed pillars from the basement and also demolished the base wall to fit glass for his car showroom and the alterations weakened the structure.
"We had sensed the damage then and took the advice of famous structural engineer Chetan Raikar who suggested that the repairs must be effected to strengthen the pillars. But they (the accused) did not do anything", Merchant alleged.