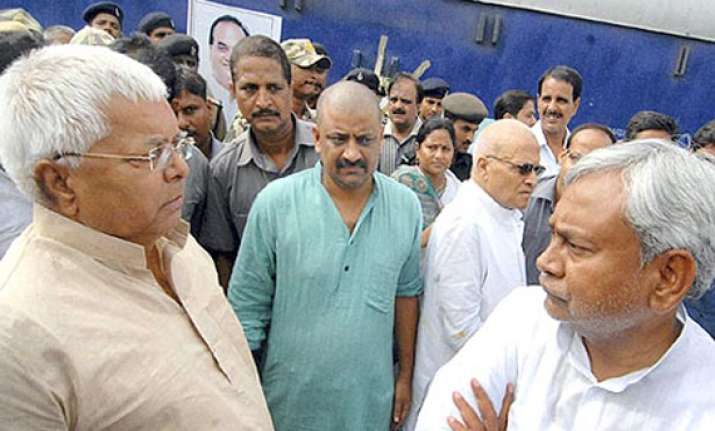 Patna, May 26: Though the outcome of Maharajganj Lok Sabha by-poll would not have much political impact, the election is seen as test of popularity of Chief Minister Nitish Kumar and his rival RJD President Lalu Prasad before the crucial 2014 polls.
There are six candidates in the June 2 bye-election, but, it is a direct fight between JD(U) nominee P K Shahi and RJD's Prabhunath Singh.   
Congress candidate Jitendra Swami, who is son of RJD MP Umashankar Singh whose death has necessitated the bye-elections, will make the fight triangular.   
Presence of Swami in the field is seen here as Congress rebuff to Lalu Prasad, who has been making efforts to come closer to Congress once again.    
Located on Bihar and Uttar Pradesh border, Maharajganj Parliamentary constituency has been seat of social work of First President Rajendra Prasad.    
His son Mritunjay Prasad represented the seat as Congress candidate in 1967.    
The Maharajganj by-poll would show whether popularity of Chief Minister Nitish Kumar is intact with the people or his rival Lalu Prasad who organised a "Parivartan rally" to oust NDA government, is regaining support of people after a humiliating defeat in last Parliamentary poll as well in Assembly elections in 2010.   
LJP of Ramvilas Paswan is extending support to RJD's nominee Prabhunath Singh, who ironically had lost the last election from the same seat as JD(U) candidate.    
The by-poll is important from NDA point of view also as this would be first test to show whether the alliance between JD(U) and BJP is as solid as it used to be after the recent bickering between the two partners triggered by JD(U) attack on Gujarat Chief Minister Narendra Modi, considered as a prime ministerial candidate of the BJP.