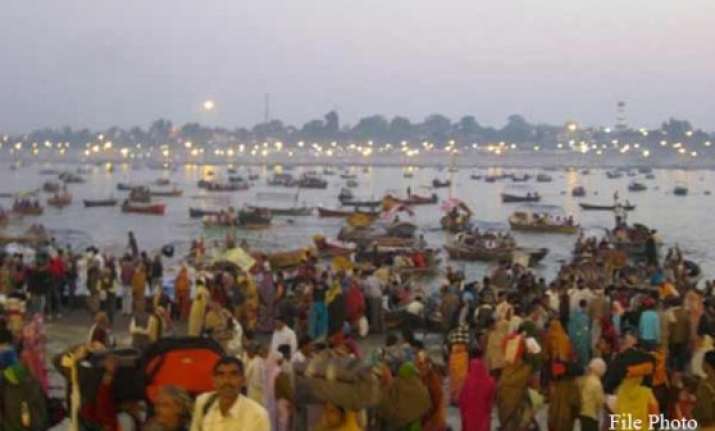 Varanasi: The usual evening of prayers was made special for devotees at a ghat on the bank of the Ganga river here when Bhojpuri star Manoj Tiwari along with the cast of forthcoming TV show "Mahakumbh - Ek Rahasya, Ek Kahani" made the right noises about channel Life OK's new offering.
It was more than just a regular Tuesday evening at the Dashashwamedh Ghat - with the fervour, the cheering and the smiles on people's faces.
Apart from the hustle bustle before the evening Ganga aarti, visitors sensed something special was in store -- much with the huge posters of the show, floral arrangements as well as a team of 20 security men.
Just then entered Gautam Rode, the actor whose popularity went up several notches with "Saraswatichandra". He plays the protagonist Rudra in "Mahakumbh". If teenaged girls ran with their mobile phones and screamed with excitement upon seeing their favourite 'Saras', the men in the crowd could easily recognise him via the "Mahakumbh" posters.
Accompanied by his co-actors Payal Rajput, Robin Das and Manish Wadhwa, child actor Siddharth Nigam, and Life OK executive vice president and general manager Ajit Thakur, Gautam cut through the crowd to make his way to a boat.
Just when the crowd couldn't get enough of his presence, entered Manoj Tiwari. "Har har Mahadev" -- the crowd chanted upon spotting Manoj, considered one of the biggest stars to emerge from Bihar. He was like Pied Piper with the crowd following him and not to one's surprise, joyfully danced to his tunes.
Manoj not just belted out some traditional and devotional numbers on the ghat prior to the holy aarti -- a daily exercise involving multiple priests who conduct the proceedings using incense, multi-layered lamp stands and the sound of the temple bells; but also personally introduced each of the "Mahakumbh" members to the audience.
He asked them to welcome and bless the show, which is also widely shot in Varanasi, considered India's oldest Hindu city.
The show's lead actors Gautam and Payal also conducted an aarti before the main aarti began and engulfed the environs with the pious fervour of devotion that this holy land is known for.
The evening ended with a boat ride in the winter chill. What remained was more curiosity for "Mahakumbh", the story of an ordinary man with extraordinary powers.
A contemporary mytho thriller produced by Arvind Babbal Productions, the show will go on air Dec 15, 2014 and will see acclaimed actress Seema Biswas in a key role.