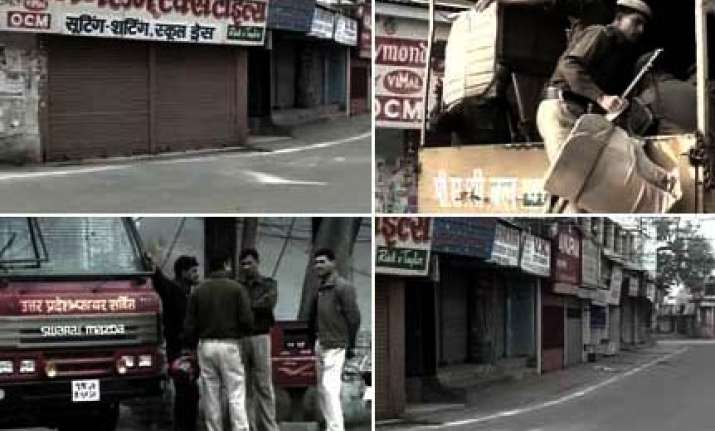 Security forces on Sunday patrolled the streets while a chopper kept an aerial vigil on this communal violence-hit city where curfew remained clamped for the 12th day in most areas.
"Though situation is tense, it is completely under control and no incident of clash or violence has been reported from any part of the city since morning," they said. However, as a preventive measure curfew has not been relaxed. Security forces including Rapid Action Force and police marched in the trouble-hit areas of the city this morning.
"As of now curfew continued in five of the six police areas - Prem Nagar, Subhash Nagar, Kotwali, Baradari and Qila and aerial monitoring is being done regularly to tackle any emergency situation," they said.
Around 30 shops were allegedly torched in Qutubkhana sabzi mandi, one of the oldest market in the city, on Saturday. However, the district administration later claimed that fire broke out due to short circuit.
Curfew was clamped in the city on March 2 following communal clashes over a barawafat procession. Since then sporadic incidents of violence and arson had been taking place at different places in the city.
After large scale violence on Friday in which several shops and vehicles were torched by a mob, heavy force has been deployed throught the city to avert further trouble.
A three-member BJP team led by MP Maneka Gandhi was on Sunday prevented from going to communal violence-hit Bareilly city by the state administration. 
Lashing out at the UP government, Maneka, who was stopped in Ghaziabad but later allowed to proceed to Badaun with police escort, 250 km from Bareilly, accused it of 'engineering the riots' and taking "one sided action to appease a particular community".
"Whatever had happened in Bareilly may lead to similar incidents at other places in the state," she said. Another member of the team, Gorakhpur MP Yogi Aditynath was forced to get to down from Gorakhpur-Bareilly Express train in Barabanki, near Lucknow, at 3 AM.
He was taken to a state guest house and later sent back. Meerut MP Rajendra Agarwal was stopped in Rampur district which shares its border with Bareilly. Accusing the police of harassing her on the directions of the state government, Maneka said she was stopped in Ghaziabad, "there was a written order for not allowing me to enter Bareilly; no reason was given".
"Only when I said that I would raise the issue before the Lok Sabha Speaker, we were allowed to reach here," she told reporters. "There are ten police jeeps to prevent me (from entering Bareilly)."
She claimed that tension between two communities was not the reason behind communal riots in Bareilly. "Poor law and order situation in UP is responsible for communal riots."
Referring to cleric Maulana Tauqeer Raza Khan, she alleged that while the person responsible for incting clashes was released, the district magistrate and SSP, who were working honestly and diligently, were removed without delay.