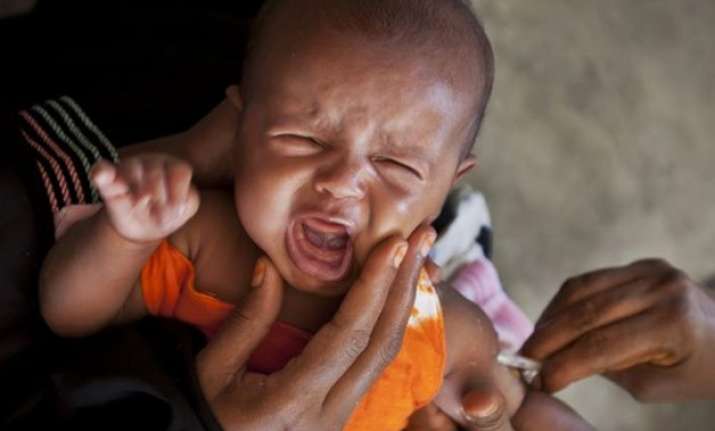 Badaun (Uttar Pradesh): "Give us rations or a railway crossing otherwise we will not bring our children for immunization," clamoured residents of some villages in this Uttar Pradesh district as they put local issues above the health of their children to stall an immunization drive to vaccinate children against seven diseases, including tuberculosis, measles and hepatitis B.
While some residents here are boycotting the regular immunization campaign to protest against official apathy in not meeting their demands for railway crossing, others are demanding regular supply of rations which they don't get.
Residents of Mohammadpur Bihar village, located in Binawar area of Badaun district, are boycotting the immunization drive over the abandoning of a railway crossing near their village after the railway line was converted from metre gauge to broad gauge.
"The villagers were adamant about not bringing their children to the immunization camp unless their demand to re-open the railway crossing is met. They also staged demonstrations in this connection," Badaun Chief Medical Officer (CMO) Deepak Saxena told this visiting IANS correspondent.
This is not a problem peculiar to only Binawar; residents of several other places in the district have resorted to such protests or have boycotted the immunization programme to force the acceptance of their local demands.
In Nanakheda village of Jihani block, the authorities faced a similar situation.
"In Nanakheda, the residents had threatened to boycott the immunization drive and had demanded that ration should be distributed every month in their village," Saxena said.
Officials of the Uttar Pradesh Health Department said local issues take a toll on the immunization drive in various areas of the district.
However, to get around this problem, the government is taking several steps like addressing the issues and spreading awareness among the villagers about the vaccination drive.
Saxena told IANS: "To resolve the matter, we took the help of the administration and somehow persuaded the residents to participate in the immunization programme and not to boycott the campaign to protest the closure of the railway crossing.
"We also told them the benefits of immunization and urged them not to use it as a tool of addressing their local issues," he said.
The Mission Indradhanush, depicting seven colours of the rainbow, launched by the Narendra Modi government aims to cover all those children by 2020 who are either unvaccinated, or are partially vaccinated against seven vaccine preventable diseases which include diphtheria, whooping cough, tetanus, polio, tuberculosis, measles and hepatitis B.
Officials of health department said that similar bottlenecks were also reported during Pulse Polio Campaign in the district. Such situations occur because of lack of awareness among the people about vaccination programme.
"We are spreading awareness about the vaccination drive with the help of UNICEF. We tell them (people who boycott the drive) it is a national programme so they should be cautious," Saxena said.
But this is not the only stumbling block.
Besides these local issues, the geographical position of the districts also poses a problem.
Officials say Badaun district is covered by the rivers namely Ganga, Ramganga and Behgul from three sides.
"During monsoon season which results in floods it becomes tough to reach the remote villages situated in this region. We have to reach these villages through boats and even walk sometime to conduct vaccination there," Saxena added.
He, however, said that the government was taking every possible effort to ensure cent per cent immunization in such areas too.
"We are reaching out to such places and are determined to conduct sessions there. We are trying to cover most of the kids there before floods. We are putting more focus on such places," he added.