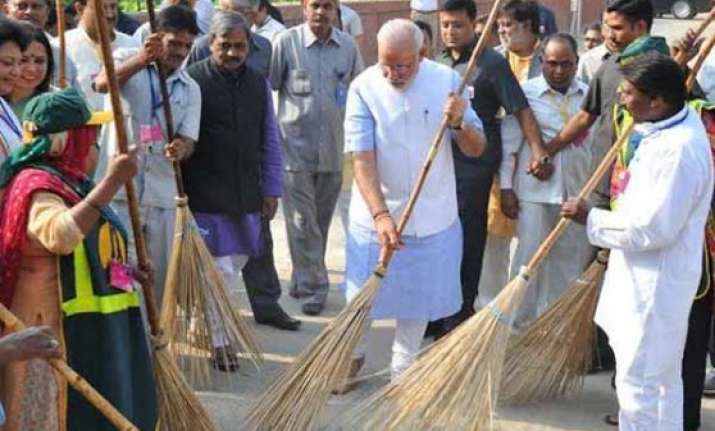 New Delhi: Wielding the broom himself, Prime Minister Narendra Modi today launched 'Clean India' campaign joined by chief ministers, lawmakers, prominent personalities from various fields along with lakhs of countrymen in a drive that is expected to cost nearly Rs 2 lakh crore.  Asserting that "Swachh Bharat" mission is "beyond politics" and inspired by "patriotism", he invoked Mahatma Gandhi's vision of a "clean and developed" India as he formally kicked off the five-year-long campaign, which will cover 4,041 statutory towns, on the 145th birth anniversary of the Father of the Nation.
The tech-savvy Modi even launched his own version of ALS ice bucket challenge, nominating nine eminent personalities including Sachin Tendulkar, Congress leader Shashi Tharoor, industrialist Anil Ambani along with several actors like Salman Khan, Priyanka Chopra and Kamal Hassan to spread awareness on the issue and asked them to continue the chain.  At a function at Rajpath here, Modi administered a pledge to people to make India clean, but not before himself sweeping the pavement in Valmiki Basti, a colony of sanitation workers here.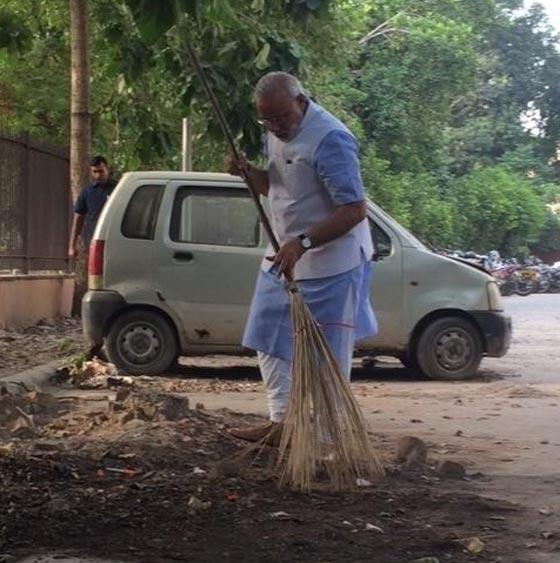 Union Minister Nitin Gadkari announced that Rs 20 lakh per annum will be allocated to each village panchayat for the Clean India campaign. While the Urban Development Ministry will allocate Rs 62,000 crore for cleaning towns across the country, the Ministry of Drinking Water and Sanitation will spend Rs 1 lakh 34 thousand crores for the programme.
Debunking criticism that his government has been taking credit for every achievement, the Prime Minister acknowledged the efforts of all previous governments to make India clean and even went on to praise Congress' front outfit Seva Dal.  "I am not talking politics...this is beyond politics.  This is inspired my patriotism not politics. We do not have to do with an eye on politics...I say that with a clean heart...  If we paint this again with a brush of politics, we will again do a disservice to mother India.
"All the governments in this country have made one or the other effort to do this work. Several political, social and cultural organisations have made efforts in this direction. I greet all those, who have worked," Modi said.  Recalling that he had congratulated all governments even from the ramparts of Red Fort, Modi said,"even today from this stage, I greet and salute all the governments—central, state and municipal, social organisations which have worked in this direction, whether they are leaders from Sarvodaya or workers of Seva Dal. I launch this programme with their blessings."
The Prime Minister stressed on the need to refrain from making political barbs on the issue.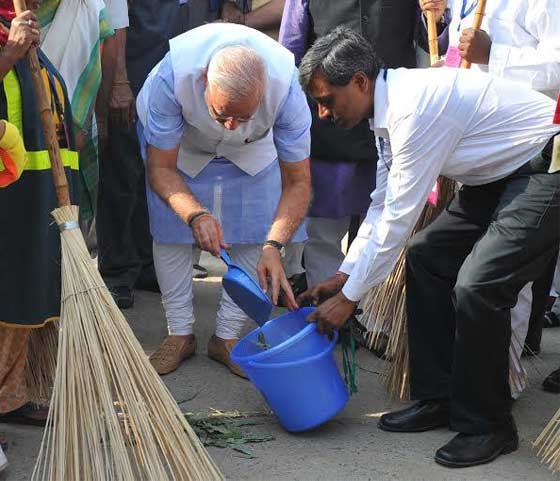 "Everybody before us has worked for it. Under Mahatma Gandhi's leadership, the Congress had led it...Who was successful, who was not. Let us not get into it who has done it, who has not. We should work responsibly," he said.  Reacting to it, Congress said Swachh Bharat is "clearly a good thing" but cautioned that "it should not remain a mere photo opportunity" and added that "apprehensions are that it may become symbolic".
"This is basically a programme given by Mahatma Gandhi, which the Congress has always been doing. The government and the Prime Minister himself accepted that Congress Seva Dal has always been doing this. He has appreciated Congress leaders...," Congress leader Rajiv Shukla said.  "I request the Prime Minister that he ensures that the drive continues. It's not that it should be there only for one, two or three days. Apprehensions are that it may become symbolic."
He also said that Mahatma Gandhi should be accepted in totality and not in piecemeal. "Not that we accept certain aspects of Gandhi and defy others...," he said.  Administering a pledge to people to make India clean, Modi said that this task is not the responsibility only of safai karamcharis (sanitation workers) or the government but of all the 125 crore Indians.
He said that today's campaign should not be seen as a mere photo opportunity.The Prime Minister said that he is aware that the criticism of this programme will begin in just a few days but said he is prepared for this exuding confidence that the countrymen will not let him down.  The Cabinet had last month decided to merge the 'Nirmal Bharat Abhiyan', a campaign for rural sanitation with Swachh Bharat Mission.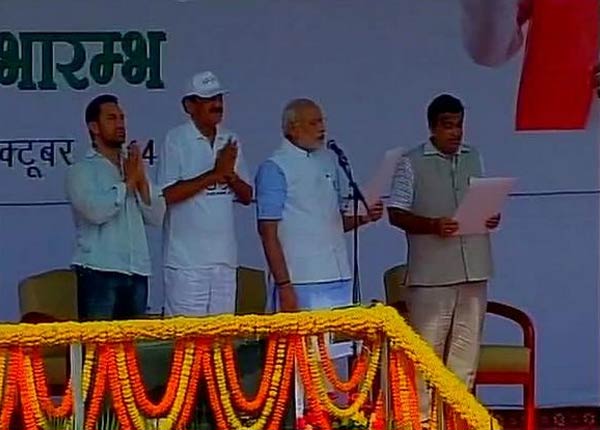 Modi also announced start of a campaign on cleanliness through social media using his website MyGov.in and others, including one dedicated especially to it.  He asked the nine personalities invited by him to "come to public places and work towards a Clean India" to nominate nine more people to join the campaign and hoped that the chain would continue and turn into a people's movement.  Among those nominated by the PM are actors Salman Khan, Priyanka Chopra and Kamal Hassan, industrialist Anil Ambani, Goa Governor Mridula Sinha and Congress leader Shashi Tharoor, yoga guru Ramdev and the team of TV serial "Tarak Mehta Ka Ulta Chashma".
Modi highlighted the Father of the Nation's thrust on cleanliness and said the country must realise his unfulfilled dream of a clean India on his 150th birth anniversary in 2019.
"Mahatma Gandhi dreamt of an India which was not only free but also clean and developed. Mahatma Gandhi secured freedom for Mother India. Now it is our duty to serve Mother India by keeping the country neat and clean," said the first lines of the pledge.
The pledge further takes the promise from every individual to remain committed to cleanliness and devote time for this.
"I will devote 100 hours per year—that is two hours per week—to voluntary work for cleanliness. I will neither litter nor let others litter.
"I will initiate the quest for cleanliness with myself, my family, my locality, my village and my work place. I believe that the countries of the world that appear clean are so because their citizens don't indulge in littering nor do they allow it to happen. With this firm belief, I will propagate the message of Swachh Bharat Mission in villages and towns," reads the pledge.
It also exhorts all to encourage 100 other persons to take this pledge and endeavour to make them devote their 100 hours for cleanliness.
Here are the highlights of the launch of 'Swachh Bharat Abhiyan'
10:03 am: Narendra Modi begins 4 km march from India Gate to Vayu Bhavan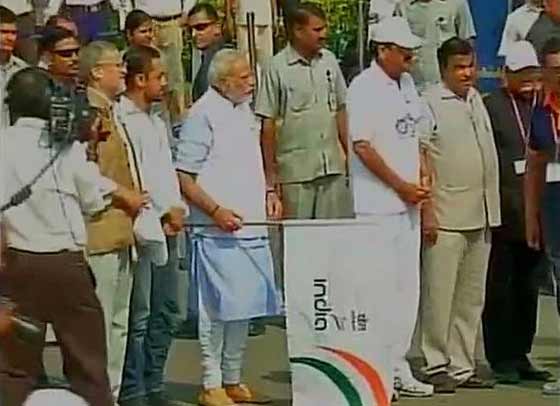 10:00 am: Actor Aamir Khan shares dais with Modi
09:51 am: Narendra Modi administers 'Cleanliness Pledge'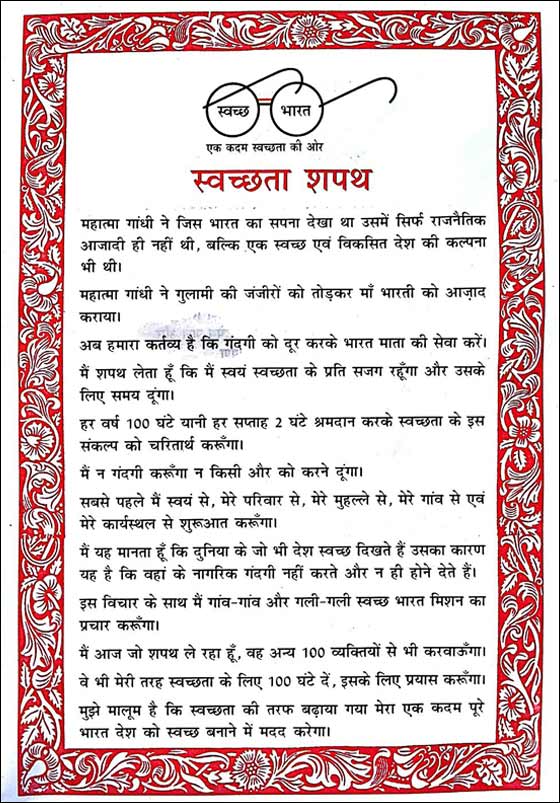 09:49 am: I feel pained when our mother, sister go in the open to relieve themselves: Modi
09:48 am: Constructing more toilets is extremely important: Modi
09:47 am: The enthusiasm I am seeing on my social media pages for this campaign is heartening: Modi
09:46 am: I have invited Mridula Sinha ji, Sachin Tendulkar, Anil Ambani, Ramdev, Shashi Tharoor, Kamal Haasan, Priyabka Chopra, Salman Khan, team of Tarak Mehta Ka Oolta Chashma: Modi
09:45 am: I have invited nine people and asked them to come to public places and work towards a Clean India. I ask them to invite 9 more people too: Modi
09:44 am: A campaign on social media using MyGov, a Mobile Application, facebook and Twitter has been launched: Modi
09:43 am: I also thank the media for supporting this campaign, we all need to come together for it: Modi
09:42 am: Swachh Bharat mission is beyond politics. It is inspired by patriotism and not politics: Modi
09:42 am: All governments have done something or the other to achieve cleanliness in the country; I greet all of them for this: Modi
09:41 am: I do not make any claim that only this government has done everything: Modi
09:40 am: I know people will criticize me in the next few days, I am ready to face this. If it leads to a clean India, then I am ready for criticism: Modi
09:39 am: We reached Mars. No PM or Minister went. It was the people who did it, our scientists who did it. So can't we create a clean India: Modi
09:39 am: India can do it, the people of India can do it: Modi
09:38 am: This work is not only about a 'prachar abhiyan.' It is a big effort but we have a lot of time: Modi
09:38 am: Be it Mandir, Masjid, Gurudwara or any place, we must take efforts to clean our surroundings, we must change: Modi
09:37 am: Is cleaning only the responsibility of the Karamcharis? Do citizens have no role in this? We have to change this mindset: Modi
09:37 am: Swachh Bharat Campaign logo is not just a logo, through it Gandhi ji is watching us, asking as when will we clean India: Modi
09:36 am: We gained freedom under leadership of Gandhi ji, but his dream of clean India is still unfulfilled: Modi
09:35 am: Today is the birth anniversary of Mahatma Gandhi ji and Lal Bahadur Shastri ji: Modi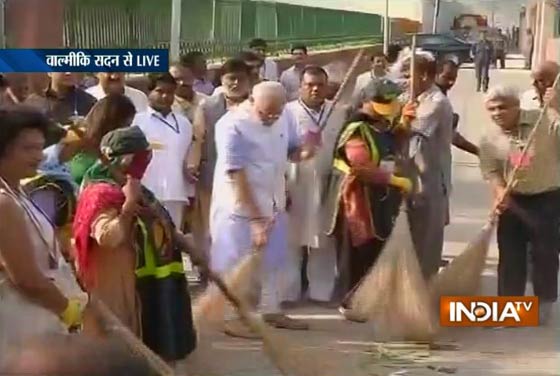 Earlier this morning, he used a broom and shovel to clean the ground of the Valmiki Sadan, a Dalit colony at Mandir Marg in national capital.
The launch of the mission comes in the wake of a perception about Indian cities not being very clean. A number of people in rural areas still do not have access to toilets. Some schools in the rural areas also do not have toilets.
According to the 2011 Census, only 32.70 per cent of rural households had access to toilets. According to a UN report released this year, India continues to have the largest number of people in the world defecating in the open.