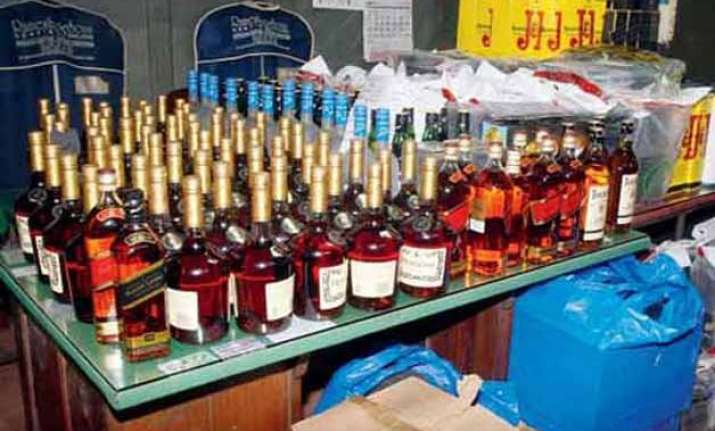 New Delhi: Liquor seizures by Delhi Police went up during the recent Delhi Assembly polls as compared to the previous election that was held merely 14 months earlier even though the amount of cash seized saw a steep fall.
As per the information revealed in an RTI query filed by a Mumbai-based activist, Anil Galgali, Delhi cops seized Rs 1.76 crore meant to be distributed among voters in December, 2013.
But the size of the seizure came down to around Rs 33 lakh in February, 2015, a decline of 78 per cent.
As to the liquor haul in 2013, Delhi Police had seized as many as 1,16,044 quarters, 4,038 half and 8,654 full bottles along with 630 bottles of beer and 2,407 litres of liquor.
The liquor seizure surged significantly in the high-stake electoral battle in February, 2015.
In the polls this year, liquor bottles in various sizes — 1,47,613 quarters, 7,235 half, and 6,929 full sized bottles — were seized along with 1,055 beer bottles and 10 litres of liquor.
This figure also includes seizure of 8,000 bottles of liquor allegedly from AAP candidate Naresh Balyan. However, Balyan has denied police charges and the case is still under investigation.
Galgali also sought to know the details of action taken against the "accused candidates" or their "henchmen". His plea has been transferred to the PIO of the Crime Branch of Delhi Police.
Significantly, Chief Minister Arvind Kejriwal had extensively raised this issue in his poll campaign.
Galgali, who has unearthed numerous scams through RTI, demanded that the Delhi Police and Delhi government put up the names of accused persons on their web portals.
"I have emailed chief minister Kejriwal, chief electoral officer for Delhi and the Commissioner of Delhi Police and have demanded that they upload the names of accused persons on their respective websites," Galgali said.