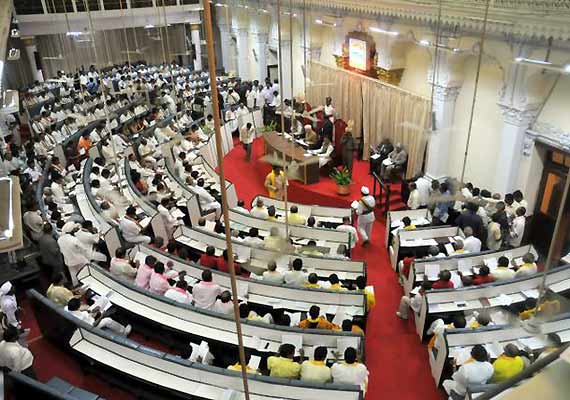 Hyderabad: History is in the making in Andhra Pradesh legislature, which finally took up for debate on Wednesday a bill for creating a separate Telangana state after days of bitter wrangling over the issue.
A war of words is on between the legislators of Telangana and Seemandhra (Rayalaseema and coastal Andhra) when the debate began on the Andhra Pradesh Reorganisation Bill 2013, sent by President Pranab Mukherjee last month for the legislature's opinion.
The unprecedented debate marks a significant step in the process for bifurcating the southern state, which was formed in 1956 with the merger of Telangana with the then Andhra state (now Seemandhra).
Telangana, comprising 10 districts including Hyderabad, existed as separate state before the merger to create one state for Telugu-speaking people.
Though Speaker N. Manohar has clarified that there will be voting on the bill after the debate and a negative vote could create hurdles when the bill goes back to the president on Jan 23.
Legislators divided along regional lines are engaged in a heated discussion marred by allegations and provocative remarks, leading to repeated disruptions and adjournments.
The speaker Friday adjourned the house till Jan 17. The last six days of the session are likely to see more fireworks.
The main opposition Telugu Desam Party (TDP), which along with YSR Congress Party (YSRCP) stalled the assembly for eight days to prevent a debate, finally reconciled.