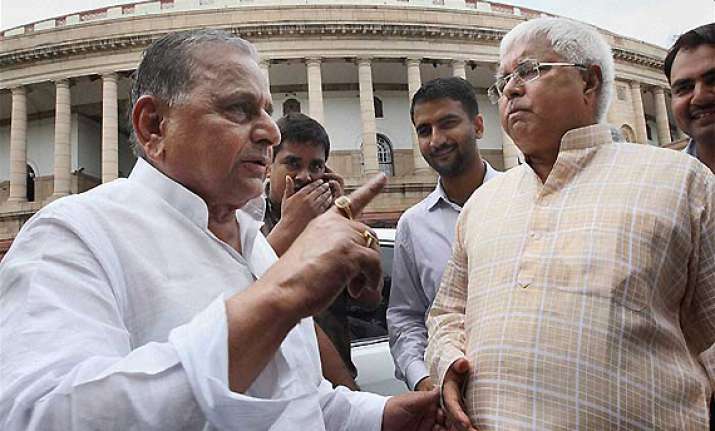 New Delhi, Mar 6: RJD chief Lalu Prasad today congratulated Mulayam Singh Yadav on Samajwadi Party's impressive win in the UP Assembly elections, saying it is a victory of secular forces.

Prasad, who is in the national capital, called up the SP leader to greet him.

Hailing it as "victory of secular forces", Prasad said that it will be the secular parties which will win even in future.

Sharad Yadav, president of Janata Dal (United), an ally of NDA, also hailed  the "clear mandate" given by people in UP.

"People have given a clear mandate, which has brought an end to all sorts of political games. I welcome it," he said, adding the election result giving a clear majority to SP is "in the interest of the nation and in the interest of the state".

The JD-U chief said he will personally congratulate Mulayam Singh Yadav.

The Yadav trio Lalu, Sharad and Mulayam has joined hands on many issues in Parliament in the past.

As the upcoming budget session is set to be stormy with the Opposition planning to target the government on issues like price rise and corruption, the role that the Yadav trio play, is something that will be closely watched in Congress circles.