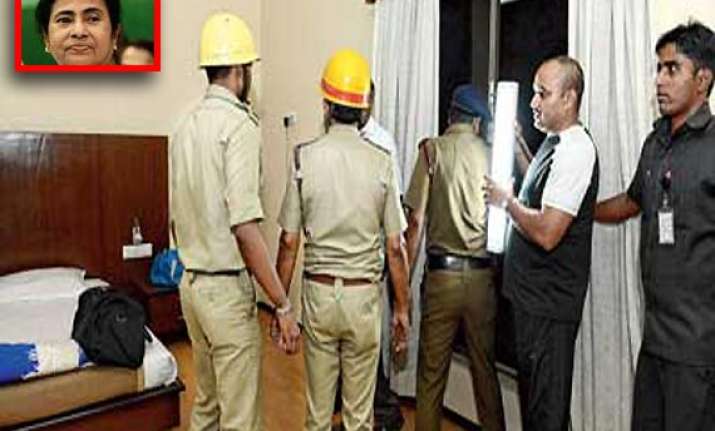 Malda (West Bengal): Chief Minister Mamata Banerjee was inside the toilet, when the room air conditioner in Golden Park Hotel suddenly caught fire on Thursday evening.
She screamed and shouted for her aide Joydeep, who immediately rushed into the toilet and rescued her.  
The mishap took place at around 6:40 pm. The chief minister who was inside the toilet suddenly felt uneasy on inhaling the smoke and shouted for her aide.
A hotel employee said: "Around 7pm, the chief minister was heard screaming from inside her room.
"Some other hotel employees and I rushed to her room.
"Thick smoke was coming out of the AC. She rushed out of the room.
"By then, her security guards had arrived. Our staff members disconnected the malfunctioning AC."
State transport minister Madan Mitra, who accompanied  Banerjee in her campaign alongwith filmstar-turned Mithun Chakraborty,  said:  "After hearing the cries of  Mamata didi, Joydeep rushed to her help, wrapped her with a blanket, and pulled her out of the room. The room was filled with smoke."
A  doctor was soon called, who examined her. Firemen arrived and  extinguished the fire.
"Mamata didi's room was engulfed in thick smoke and the visibility was poor. On account of exposure to smoke and noxious fumes, she took ill," Trinamool Congress general secretary Mukul Roy said.