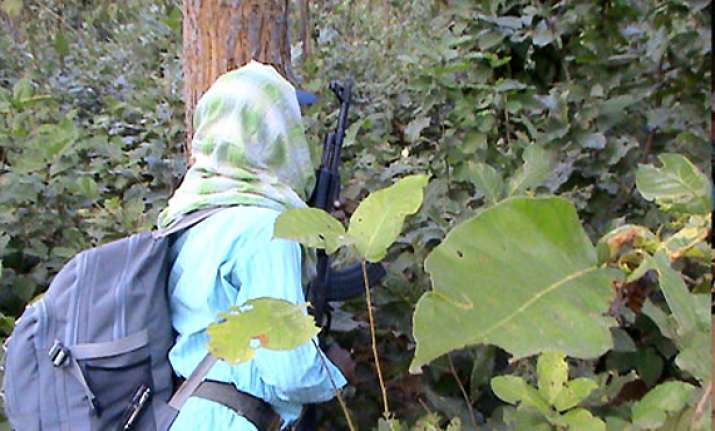 Jhargram (WB), Nov 25: Security forces were today combing the Burisole forest in West Midnapore district to locate Maoist woman leader Suchitra Mahato who fled after the encounter with joint forces in which top Maoist leader Kishenji was killed.

A purse, believed to be that of Suchitra, the wife of slain ultra leader Sasadhar Mahato, who had been living with Kishenji, was found outside the forest leading to the fresh search, a CRPF commandant said.

Over 1,100 personnel of the joint forces comprising the 167 and 184 battalions of CRPF, CISF, the CoBRA and allied forces along with sniffer dog Bruno were carrying out the combing operations, police sources said.

All health clinics and primary health centres were scoured to ascertain if the injured Maoists had been there, while villagers were being questioned to secure information about the ultras who had fled, the sources said.

The body of the 58-year old Kishenji who stalked junglemahal for about two years, was first taken to Jhargram hospital morgue and then to the Midnapore police morgue for post mortem after yesterday's encounter.  The police were waiting for the family members of Kishenji to formally identify the body.

West Bengal Director General of Police Naparajit Mukherjee, who visited the encounter site, told PTI "The standard procedure for identification will be followed. The next of kin will identify the body."

"It was a tactical and symbolic operation by the joint forces, particularly the CRPF and West Bengal police. They (Maoists) were under pressure as public help for them was not there, which helped us. It was a very important stride," Kumar said.

Asked whether the joint forces pursued only Kishenji, DIG (Midnapore Range) Vineet Goel said, "The operation was planned after we received intelligence input that a squad was holed up. And, we could pin him down. "The operation is still on, but I can't share details with you."

Kishenji's niece Deepa from Peddapalli town in Karimnagar district of Andhra Pradesh accompanied by revolutionary poet Varvara Rao and Maoist sympathiser were en route by air from Hyderabad to Kolkata to identify the body.

An AK-47 and AK-M rifles were found close to Kishenji's body. CRPF DG Vijay Kumar also visited the encounter site.

"Kishenji used the AK-47 and the AK-M was believed to have been used by Suchitra," police sources said. A black bag was found near Kishenji's body from which Rs 82,000 in cash, a 160 GB hard disk, a mat and a blanket were discovered as also letters, documents, a map of junglemahal and a photograph of Sasadhar Mahato. A glass and some medicines, mostly painkillers, were also found in the bag.

Journalists were not allowed to proceed beyond a certain area by the joint forces.

Maoist state committee member Akash alleged that Kishenji was killed in a fake encounter and a two-day statewide bandh had been called from November 26 in protest.  He also demanded an independent inquiry into Kishenji's death.

As Deepa Rao arrived in Kolkata to identify the slain Maoist leader's body kept in a police morgue at Midnapore town in West Midnapore district, Varvara Rao, who accompanied her from Peddapalli in Andhra Pradesh, alleged that Kishenji had been killed in a fake encounter in Burisole forest yesterday.

"Kishenji was arrested two days ago and kept in police custody. He was killed in a fake encounter. It is a murder case which should be probed," Varvarao Rao told reporters at the NSCBI airport here. Rao demanded that Kishenji's body be brought to Kolkata.

In Jhargram (WB), CRPF Director General Vijay Kumar said Kishenji was killed in a "very clean and successful" operation by the joint forces.

"It was a very clean and successful operation and our boys did not waste a minute," he told reporters in Burisole forest where Kishenji was killed. "No, no, no," he said when asked about the allegation of fake encounter levelled by revolutionary poet and Maoist sympathiser Varvara Rao.