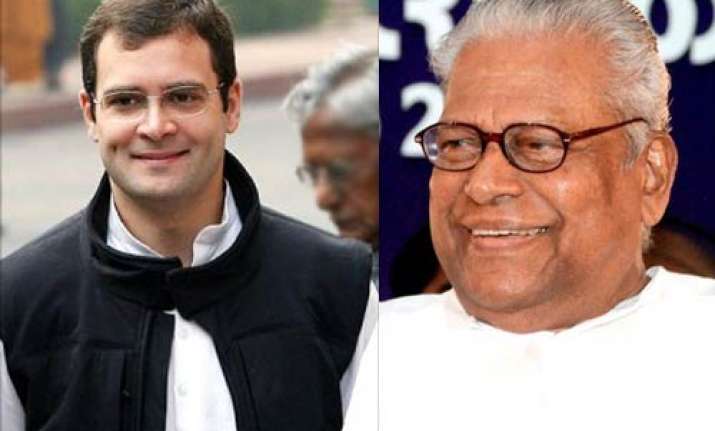 Palakkad,  Apr 11; Kerala Chief Minister, Mr V.S. Achuthanandan, on Sunday hit back at AICC general secretary  Rahul Gandhi, calling him an 'Amul Baby'.

Rahul Gandhi had jested the other day that if the Left Democratic Front was voted back to power, Kerala would have a 93-year-old Chief Minister at the end of five years.

The 87-year-old veteran CPI-M leader Achuthanandan took recourse to verse to prove that Rahul Gandhi's criticism was irrelevant.

"A grey head is not a sign of ageing, neither is lack of grey a sign of youth," he said in Palakkad, quoting an old Malayalam poem. "The refusal to bow my head before tyranny is the sign of my youth."The Chief Minister also asked, "Is it my mistake that I am 87 years old?" amid cheers from supporters.

"I was studying in class seven when my father died," he reminisced. "I could not continue my studies after that. I have been working for this movement from the age of 16, fought the British during the freedom struggle and have organised people to fight for rights. I would like to know where Rahul was till he turned 40."

Ridiculing Rahul Gandhi, the Kerala chief minsiter said he had fielded some 'Amul babies' in the poll arena and was an Amul baby himself.The CPI state secretary, Mr C.K. Chandrappan, said  Rahul Gandhi was making fun of the Chief Minister to gain publicity.Congress leaders in Kerala criticised Achuthanandan for making such frivolous comments about their leader Rahul Gandhi.