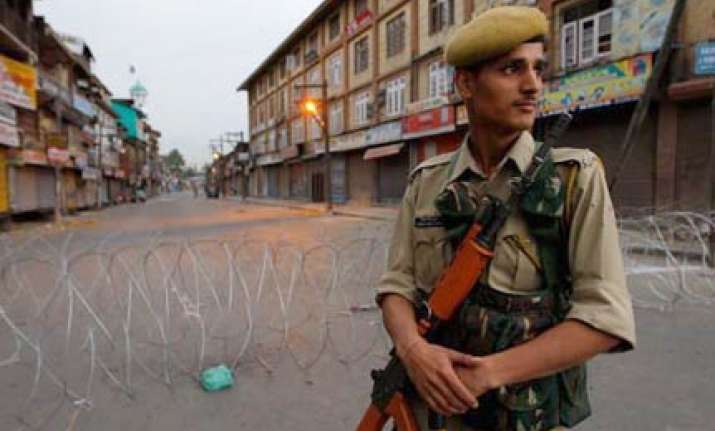 Srinagar: Kashmir Valley remained by and large peaceful today with stray incidents of mob violence at Sopore as the police put to use for the first time its non-lethal weapon -- Shotgun -- which proved helpful in dispersing protesters who tried to attack an army camp. Authorities had imposed curfew and restrictions in various parts of the Valley which saw widespread trouble yesterday in which four people were killed in police firing. 
Today's mob violence also saw a tragic incident when a five-year-old girl suffered serious injuries on her eye when the vehicle in which she was travelling was attacked by stone-pelters in South Kashmir. 
One person, identified as Rafiq Ahmed Dar, was injured when the police and security forces used the Shotgun, a non-lethal weapon, for the first time to disperse a violent mob in Seelo at Sopore when they attempted to overrun a camp of the 22-Rashtriya Rifles of the army. 
In adjacent Bomai, a mob tried to set afire a police station but was prevented by security forces, police said, adding some one from the crowd fired at the police party injuring one constable. A five-year-old girl suffered eye injuries when a group of protestors pelted stones at her vehicle in Valtengu village of South Kashmir today. 
The girl, Rohana, was on her way to Srinagar for a medical check-up when a mob, defying curfew, pelted stones on her vehicle. "She was going for a check-up when she got an eye injury after some miscreants pelted stones on the Sumo in which she was travelling," police said. 
Elsewhere, 20-year-old Firdous Ahmad Khan received minor injuries when he fell down on a stone when a group of people were pelting stones at a security force convoy at Singhpora in Pattan in Baramulla district this morning. 
At least seven persons, including four policemen, were injured in a clash between the police and a group of protestors in the premises of sacred Hazratbal shrine on the outskirts of Srinagar. 
Jammu and Kashmir Chief Minister Omar Abdullah chaired a meeting of Unified Headquarters meeting to discuss the prevailing situation in the Valley which has been hit by fresh protests. CRPF Director General Vikram Srivastava was summoned by the state Chief Minister following reports of high-handedness by CRPF at Bomai yesterday. 
The recent spurt in the violence in the Valley dominated the annual Independence Day message of the state Governor N N Vohra who said that "due to sad happenings in Kashmir in the past two months, normalcy in the Valley has been disrupted by an unending series of stone-pelting protests, burning of public property and attacks on the law enforcement agencies, which has resulted in a large number of deaths." 
While expressing grief over the cycle of violence in the last two months in the Valley, he appealed all political, social and cultural organisations to work together for forging peace in the trouble torn valley. PTI