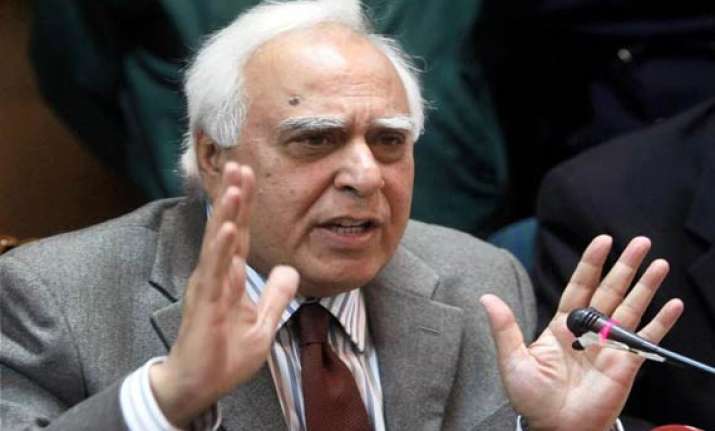 New Delhi, Jun 6: HRD Minister Kapil Sibal on Monday lashed out at Anna Hazare and his associates for  making comments against the government.
 
Sibal told a press conference that steps as these would only slow down the drafting of the Lokpal Bill.
 
"The government is shocked at comments made by Team Anna. How can they call us cheats, liars and conspirators? Are they as serious? Steps as these will only delay the drafting of the Lokpal Bill. The demand for live web cast of Lokpal meeting is irrelevant," said Sibal, while responding to the letter sent by Hazare's team to  the chairman of drafting committee Pranab Mukherjee.

Sibal further said the drafting of the Lokpal Bill will take place as per schedule.

"With or without them, drafting will take place in time. The bill will be tabled in the monsoon session of Parliament," he added.

RTI crusader Arvind Kejriwal, a key figure in Team Anna's campaign against corruption, however, termed the government's claim to be ridiculous, saying no one from Hazare's team abused government's representatives.

Civil society activists led by Hazare earlier in the day boycotted the meeting of the joint drafting committee on Lokpal bill, and wrote a letter to Pranab Mukherjee demanding the government to make its stand public on some of the key issues related to the anti-corruption legislation.

According to reports, Anna Hazare team laid out five demands major demands and added that government's intentions raised serious doubts about having a strong anti-corruption watchdog.

Prashant Bhushan, a member of the Joint Committee for drafting the Lokpal Bill, after a meeting of the social activists wrote a letter to Pranab Mukherjee, chairperson of the Joint Drafting Committee, saying the government desires to practically leave everyone out of Lokpal's ambit--Prime Minister, horse trading of MPs, middle and lower bureaucracy judiciary.

Stating that the government is shying away from public debate, the letter says the government is not serious about holding public consultations with various stakeholders on various aspects of the Lokpal Bill.