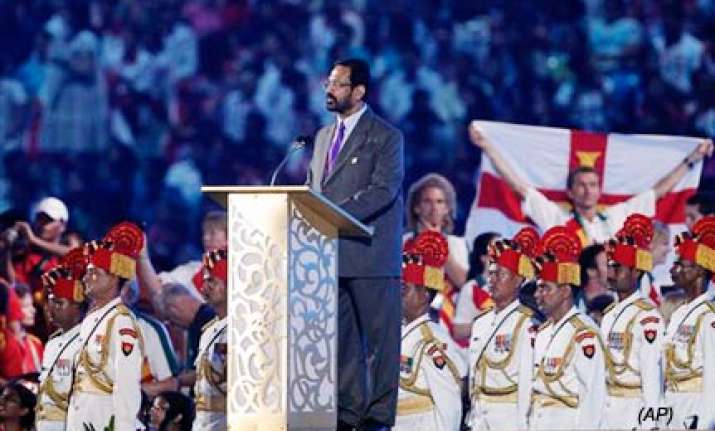 New Delhi, Oct 14: Commonwealth Games Organising Committee chairman Suresh Kalmadi received both cheers and jeers from the packed Jawaharlal Nehru Stadium during his closing speech in which he described the event as the "most watched and enjoyed Games ever" here today.  
Kalmadi, who has faced scathing criticism regarding the organisation of the Games, was shaky while delivering his speech.  
When Kalmadi's name was announced, there was silence followed by boos from a section of the spectators. However, when he congratulated the volunteers and the workforce, he was applauded.  
"Delhi 2010 has captured the imagination of the entire world. It's not the end, it's just the beginning. For athletes, it was a life changing experience. We showed what India can do at the world stage," Kalmadi stated.  
"The aftertaste of the Games will last for a long time," he added.  
Kalmadi, in his speech, claimed that CWG 2010 was the "most watched and enjoyed Games ever."  
He congratulated Prime Minister Manmohan Singh, Sonia Gandhi and all other important ministers who had done their bit in the successful organisation of the Games.  
Kalmadi also thanked finance minister Pranab Mukherjee, home minister P Chidambaram, I&B minister Ambika Soni, minister for Urban Development Jaipal Reddy who oversaw the organisational part.  
"We are grateful to Prime Minister Dr Manmohan Singh as he gave us a grant of Rs 700 crore for the training of athletes. We have had our best ever CWG performance finishing second and with more than 100 medals. There were 75 new CWG records," Kalmadi said to a deafening applause from the audience.  
He was most cheered when he thanked Sonia Gandhi and Rahul Gandhi for "coming to watch our athletes perform and sit in the stands rather than VIP galleries to boost their morale" but was booed when he thanked OC secretary general Lalit Bhanot for "working very hard".  
About the criticism he faced regarding the organisation, Kalmadi quoted Pandit Jawaharlal Nehru and said "Success doesn't come without setbacks."  
However, there were hardly any takers among the crowd for his philosophical take.  
Kalmadi also thanked the thousands of construction workers who worked for Games.  
"Everyone said that this is the best Games Village they have seen so far. The athletes from foreign land came as friends and are returning as families. The city of Delhi has advanced by 10 years and the Games has bound the country." PTI