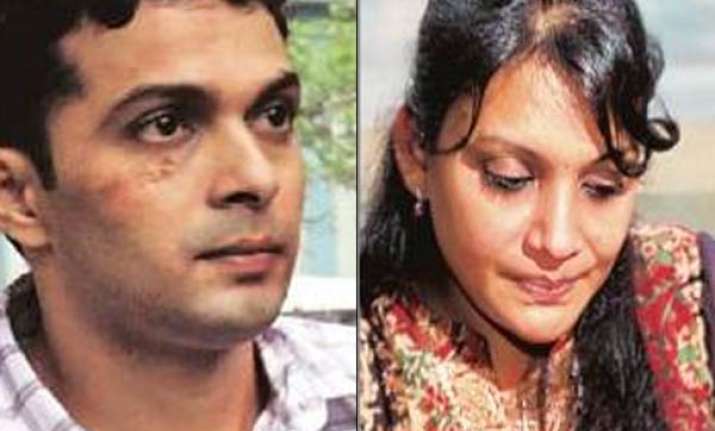 Mumbai, July 17: Challenging his conviction for culpable homicide and the 10-year rigorous imprisonment handed to him for killing TV executive Neeraj Grover, former Navy officer Emile Jerome has turned against his girlfriend, Kannada starlet Maria Susairaj, and blamed her for the 2008 macabre murder, reports Indian Express. 

Seeking the reversal of the trial court's July 1 order that held him guilty of culpable homicide not amounting to murder, Jerome has said in his appeal in the Bombay High Court, "That motive, if any, was with the Original Accused No 1 for committing the offence and not with the Appellant/Original Accused No 2." According to the chargesheet, Susairaj is accused No. 1 and Jerome, No. 2.

Susairaj was convicted and handed a three-year jail term for disappearance of evidence as she helped Jerome chop Grover's body and dispose it in the jungles of Thane district. But since she had already spent more time in jail as an undertrial, she was freed a day after the sentencing.

In his appeal filed in the Bombay High Court on Thursday, Jerome, who was charged with Susairaj for the murder of Grover in Susairaj's apartment in Malad on May 7, 2008, has urged the High Court to set aside his conviction for culpable homicide not amounting to murder and destruction of evidence, citing over a hundred grounds.

During the trial in the sessions court, Jerome's defence had argued that the prosecution had not been able to ascertain the exact time of Grover's death and, therefore, it could not be proved if Grover was alive or dead by the time Jerome reached Susairaj's apartment on the morning of May 7. But that argument did not point fingers at Susairaj directly and only sought to introduce ambiguity into the scenario and take advantage of it, legal experts said.

Besides blaming Susairaj directly in his appeal, Jerome reiterates that the prosecution had not been able to ascertain the time of Grover's death and hence it cannot be ruled out that Grover was already dead when Jerome landed in Mumbai that morning.He has also said that his conviction based on Susairaj's confession is faulty as it was "exculpatory" in nature and not admissible in court.

He also said that the knife which was allegedly purchased from Hypercity Mall and recovered by the police on May 25, 2008 was in fact planted by the investigating agency."That admittedly Original Accused No. 1 is one of the main accused in the matter, then authorship of the seized article cannot be solely attributed to the Appellant," Jerome's appeal states.

Among reasons cited by Jerome for proving his innocence, he has said that Grover, according to the prosecution, "was in the house of the Original Accused No 1 from 11:30 pm of May 6, 2008 onwards and therefore the learned trial judge ought to have read the same as incriminating circumstances against the Original Accused No. 1."
He has further stated that Susairaj's failure to explain Grover's stay in her house, as required under the Indian Evidence Act, "has to be read against her."

"The inference of the learned trial judge that Original Accused No. 1 is female, feminine, weak and therefore cannot commit the murder of deceased Neeraj is perverse," Jerome states as ground number z-24 in his appeal before the High Court.Susairaj's confession, that is believed to have fetched her a lighter sentence, "has been recorded mechanically rather than with application of mind," the appeal says.

"That only because Original Accused No. 1 allegedly while purchasing the article for destroying evidence did not run away or complain to anyone cannot be considered as voluntary act for holding the so called confessional statement voluntary in nature."

Taking on the Mumbai Police Crime Branch's investigation, Jerome contends that the plastic can which was recovered by the police was announced by the then Joint Commissioner of Police (Crime), Rakesh Maria, in his press conference on May 25, 2008 when the can was in fact recovered on June 2, 2008, thus implying that it was planted by the investigators.

Jerome's appeal will come up for its first hearing on July 25. He has also sought bail until his appeal is decided by the court.