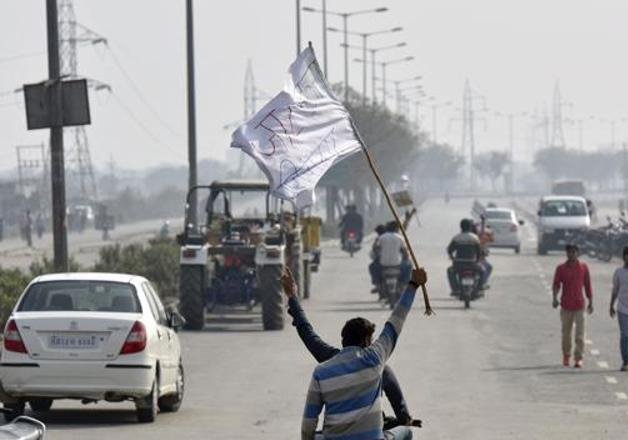 Bharatpur/Hissar: The Jat agitation in Haryana today had its echo in eastern Rajasthan where protesters damaged two buses and blocked railway tracks and highway, prompting the district administration to impose prohibitory orders.
The protesters in the morning burnt a roadways bus near Dhormui oil depot and damaged another bus in Sewar area. "Deeg, Jaipur and Mathura highways and Jaipur and Mumbai railway tracks are closed," Additional SP Bharat Lal Meena said.
IG Alok Vashistha said prohibitory orders have been imposed in the district to maintain law and order and additional police force has been rushed to the affected areas.
"The protestors blocked the highway last night.Efforts are on to control the situation," another police official said.
Senior police and district administration officials are monitoring the situation.
Taking note of the violence, Rajasthan Chief Minister Vasundhara Raje has appealed to the Jat community members of Dholpur and Bharatpur districts to maintain peace and communal harmony.
Raje said in a statement that her government has already constituted OBC Commission and EBC Commission. She said Jats in Dholpur and Bharatpur should maintain peace and law and order, so that the OBC commission can present its report on reservation to Jats.
Curfew imposed in five villages in Hissar
Curfew was imposed in five villages of the district and shoot at sight orders issued following a face off between Jats and other community members in the area today.
Earlier in the day curfew was lifted from Hissar and Hansi towns of the district even as road and rail traffic from here to various destinations remained suspended.
Deputy Commissioner Chander Shekhar Khare issued orders clamping curfew in five villages of Sisai, Pano Bolan, Kali Rava, Sainipura and Dhanipal falling in Hansi sub-division of the district.
The curfew has been imposed as a precautionary measure to avert a clash after Jats and other community members came face to face in the five villages, he said.
Shoot at sight orders have also been issued, the official order said.
The DC said that army and police patrolling in the affected villages has been stepped up and appeal issued to the people to maintain peace and remain indoors.
Road traffic on various national and state highways from Hissar to various destinations, including Delhi, Chandigarh, Sirsa, Siwani and Bhiwani is disrupted.
Railway traffic from Hissar to various destinations including Delhi, Ludhiana, Bhiwani and Sadulpur also remained suspended.
Spokesman of All India Jat Aarakshan Sanghursh Samiti Ram Bhagat Malik said they would hold a meeting later in the day to decide on the future course of action, including lifting of blockades by their supporters at various places.
Malik said the Yashpal Malik group of Jats was not called for talks held by the BJP and the Centre yesterday.