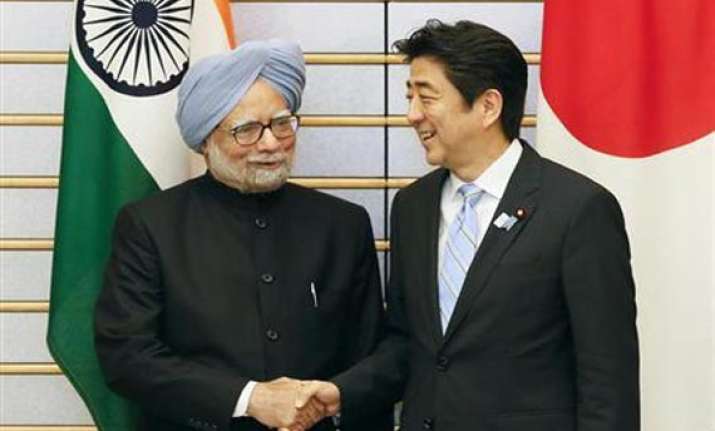 Tokyo, May 29: Japan has given a loan of 71 billion yen (around $700 million) for the Mumbai Metro Line-III project. The exchange of notes was signed in this regard here Wednesday in the presence of Prime Minister Manmohan Singh and his Japanese counterpart Shinzo Abe.
"The two prime ministers welcomed the signing of the Exchange of Notes for yen loan totalling 71 billion yen for the Mumbai Metro Line-III project, as well as the yen loan of the fiscal year 2012 totalling 353.106 billion yen for eight projects," a joint statement by the prime ministers said.
"Prime Minister Singh appreciated the pledge by Prime Minister Abe for the Campus Development Project of Indian Institute of Technology, Hyderabad (Phase 2) for 17.7 billion yen and the Tamil Nadu Investment Promotion Programme for 13 billion yen," it said.
The statement said Japan has offered to upgrade the speed of passenger trains on the existing Delhi-Mumbai route to 160-200 km per hour (semi-high speed railway system).
Manmohan Singh noted Japan's interest in supporting the introduction of high speed railway system in India.
Both sides decided to co-finance a joint feasibility study of high speed railway system on the Mumbai-Ahmedabad route.
Expressing satisfaction with the progress in implementation of the Western Dedicated Freight Corridor (DFC), both sides signed the first tranche of the Main Loan Agreement for Phase-II totalling approximately 136 billion yen.
Both sides also welcomed the progress made in the Delhi-Mumbai Industrial Corridor (DMIC) project.
"While continuing our development partnership, especially in the infrastructure sector in India, we will also strive to substantially expand the flow of trade and private investment," Manmohan Singh said.