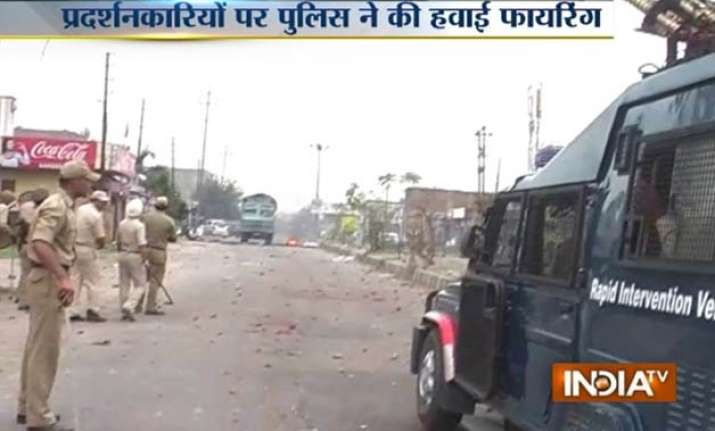 Jammu: Two policemen were injured today as clashes erupted between cops and a group of about 2000 sikh youth who were protesting against removal of posters of slain Khalistani leader Jarnail Singh Bhindranwale in an area of Jammu.
Police resorted to lathicharge and teargas shelling after the sikh youth, armed with sticks and 'kirpans', converged on Satwari-R S Pura road and blocked traffic in protest against the removal of Bhindranwale's posters put up by an organisation of the community ahead of his death anniversary on June 6, police said.
Raising slogans against police and government, some of them also tried to block the Jammu-Pathankote highway at Satwari. Reports said some of them also raised pro-Khalistan slogans.
Heavy contingent of police rushed to the spot and asked them remove blockade from the road and allow the traffic but sikh youth pelted stones at police.
Police resorted to cane-charge, tear gas shelling to disperse the violent mob of the youth, police said, adding that two cops were injured in stone pelting.  The situation was tense and some people are trying to disturb the situation in Jammu, police said.
This is for the first time that posters of the slain Sikh militant leader had come up in Jammu, the winter capital of Jammu and Kashmir.
A police officer was injured yesterday after being stabbed allegedly by some sikh youth protesting against removal of these posters.
Sub-inspector Arun Kumar was critically wounded after he was attacked with a sharp edged weapon by some Sikh youth, police said, adding he has received several stitches and is admitted to GMC hospital with two other policemen.
Some members of sikh community representing a particular organisation had put up posters of Bhindranwale and some other militant leaders yesterday on Satwari-R S Pura road here ahead of a programme to pay tribute to him.  
Station House Officer (SHO) of Satwari Police Station removed the posters, triggering protests from sikh youths.  Protests are continuing as the agitators are demanding suspension of the SHO for removal of the posters.