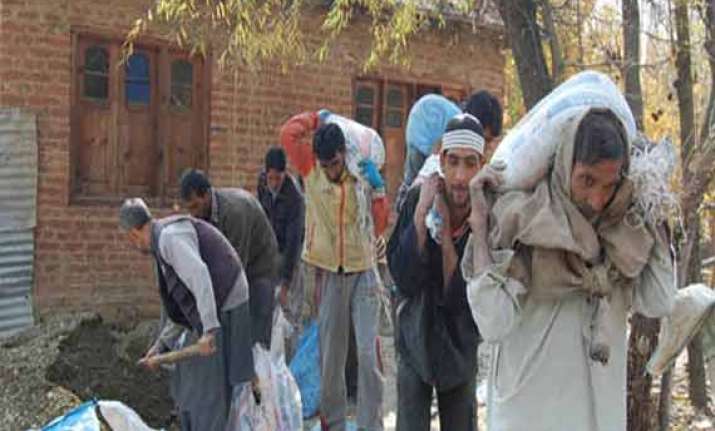 Jammu: The All Jammu and Kashmir Panchayat Conference (AJKPC) today slammed the Narendra Modi Government for "failing" to release over Rs 200 crore MGNREGA payment to the state government, which has adversely affected its Panchayat raj system.
"The BJP Government at Centre has failed to address the grievances of 33,000 Panchayat members of Jammu and Kashmir.  Union government have failed to clear over Rs 200 crore MGNREGA payment to the state government hitting Panchayat raj system," AJKPC president Anil Sharma told reporters here.
 Sharma questioned BJP's "silence" on issues related to the Panchayati Raj system in the state and alleged that the Centre has "failed" to clear MGNREGA payment despite submission of necessary documents.
The AJKPC president claimed that the MGNREGA workers from Jammu region are yet to receive their wages amounting Rs 160 crore besides Rs 40 crore against cost of the material used for projects under MGNREGA.
"Before Lok Sabha elections all senior leaders including Prime Minister Narendra Modi during his visits to Jammu in his campaigns had raised the issue several times but it is surprising that after May 26 they have turned a blind eye and deaf ear to the problems being faced by the rural people and Panchayat members," he said.
AJKPC women wing chief Bimla Devi asked the BJP government to address the genuine grievances of the elected members of the JK Panchayats, including their security.
Devi said, "elsewhere in the country, elected panchayat members are confined only with regard to developmental issues but here in the state we are faced with a double edge sword.  
"On one hand anti-national elements force us to resign from our posts and on the other discriminatory and casual approach of the government makes things more difficult for us."