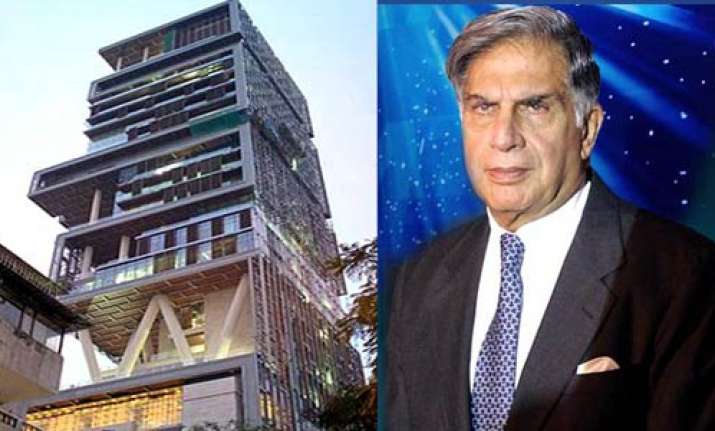 London, May 22: Tata group chairman Ratan Tata has said in an interview to The Times, London, he is surprised why fellow tycoon Mukesh Ambani wanted to live in the opulence of a billion dollar home in south Mumbai."It makes me wonder why someone would do that", Tata said in the interview. 

"The person who lives in there should be concerned about what he sees around him and (asking) can he make a difference", Tata said when asked about Antilla,the new 27-storey Ambani home on Altamount Road.

"If he is not,then it is sad because India needs people to allocate some of their enormous wealth to finding ways of mitigating the hardship that people have", he said.

Tata expressed concern over the widening richpoor gap:"We are doing so little about the disparity. We are allowing it to be there and wishing it away", he said.

Tata, whose group bought steel maker Corus and car manufacturer Jaguar Land Rover (JLR) in 2006 and 2008 to become the biggest manufacturing employer in Britain, also questioned British managers work ethic, saying "they do not go the extra mile unlike their Indian counterparts."

"Its a work ethic issue. In my experience, in both Corus and JLR,nobody is willing to go the extra mile, nobody," Tata said.

"I feel if you have come from Bombay to have a meeting and the meeting goes till 6pm,I would expect that you won't,at 5 o'clock, say, Sorry,I have my train to catch. I have to go home. "

Tata said: "things were different in India. If you are in a crisis (in India), it means working to midnight, you would do it. The worker in JLR seems to be willing to do that; the management is not."

He said " the entire engineering group would be empty on Friday evenings previously at JLR, but that had changed. The new management team has put an end to that. They call meetings at 5 o'clock. "

Tata also spoke about shifting Nano's 85 per cent installed plant from West Bengal to Gujarat after Mamata Banerjee led a campaign against land acquisition in Singur in the context of comparing efficiencies.