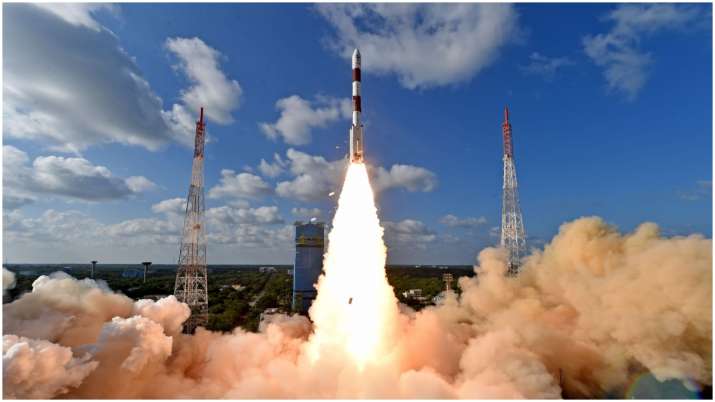 India's latest spy satellite RISAT-2BR1, along with nine foreign satellites was successfully from Sriharikota rocket port in Andhra Pradesh on Wednesday. The countdown for the launch had begun at 4.40 pm on Tuesday. Placed into an orbit of 576 km, the Indian satellite will have a life of five year.  At about 3.25 p.m. the 44.4 metre tall, rocket broke free of the first launch pad and started its upward one way journey carrying the 628 kg RISAT-2BR1 is an advanced radar imaging earth observation satellite
Piggybacking on the Indian satellite are nine foreign satellites from the USA (multi-mission Lemur-4 satellites, technology demonstration Tyvak-0129, earth imaging 1HOPSAT), Israel (remote sensing Duchifat-3), Italy (search and rescue Tyvak-0092) and Japan (QPS-SAR - a radar imaging earth observation satellite).
ISRO tweeted at 3:46 pm that the satellite was placed successfully in orbit.
#RISAT2BR1 satellite successfully placed in orbit by #PSLVC48
Here's a picture of satellite separation captured by onboard camera pic.twitter.com/OssPM4uwsG

— ISRO (@isro) December 11, 2019
The launch has marked a significant milestone for ISRO as it was the 50th flight of the PSLV which carried the satellite during the lift-off. Another landmark was that today's launch marked 75th vehicle mission from Sriharikota.
Till date, the ISRO has put into orbit 310 foreign satellites and with theis mission if successful, then that number will go up to 319.
(With inputs from IANS, PTI)
Also Read | 13 space missions before March 2020, ISRO sets target