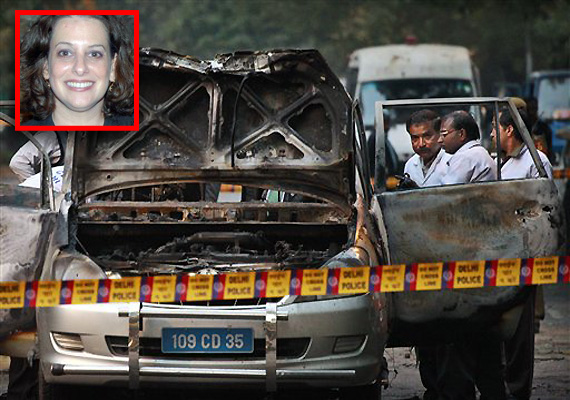 New Delhi, Feb 17: Tal Yehoshua, the Israeli woman diplomat who suffered spine and liver injuries in Monday's bomb attack in the capital, was today discharged from a hospital here and has left for her home country. 

Undergoing treatment at the Primus Super Speciality hospital since Monday night, 40-year-old Tal, wife of Israeli Defence Attache, was whisked away in an ambulance from the back gate of the hospital today at 4.25 PM to avoid media glare.

Tal, who underwent surgeries in the spine and liver, was taken on a stretcher to the ambulance.

According to doctors at the the hospital, she left for Israel in an air ambulance.

Dr Arun Bhanot, chief of spine surgery at the hospital who was attending on Tal said, "We discharged her after our team of multi-speciality doctors attending on her felt she was medically fit.

"We got an intimation from the embassy asking us if she can be discharged. We agreed as her condition had improved and she was recovering well.

"She will be taken to Israel today in an air ambulance. We discharged her when we saw that the staff of air ambulance were confident enough that she could be flown back without any harm to her wounds."

On Monday evening after the blast, she was brought to the hospital bleeding profusely. A shrapnel measuring 1.5cm from the blast site had got stuck in her spine putting pressure on the nerve. Another shrapnel had cut her liver which led to heavy bleeding.

Bhanot said, "Because the pressure was on the nerves of the spine she had become paralytic in the left leg when she was brought here. We removed the shrapnel, fixed the spine and also managed her liver. Her paralysis in her leg has partially recovered. In another two weeks time we are hopeful she will be able to walk around."

During the course of her recovery, Bhanot said that the diplomat was very co-operative.

"She was very cheerful and grateful for the treatment she received here," he said.