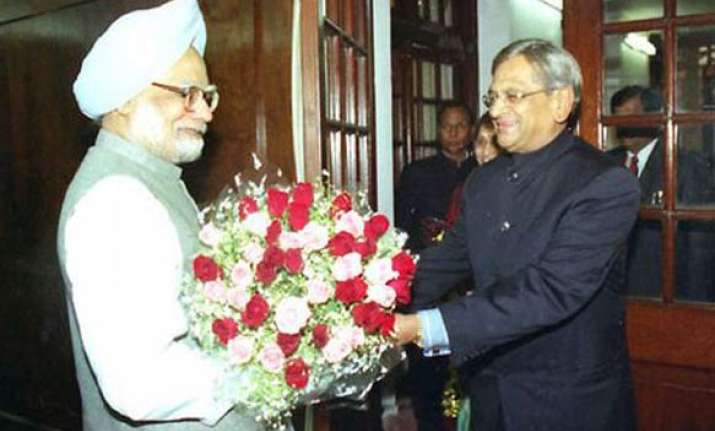 New Delhi, Feb 21: External Affairs Minister S M Krishna today met Prime Minister Manmohan Singh against the backdrop of violent protests in Gulf, West Asian and North African regions which is home to lakhs of Indians.
Krishna is understood to have briefed Singh on the various steps taken by his Ministry to ensure safety and security of Indians living in these regions where civilian unrest is spreading.
The Prime Minister was briefed about the contingency plans of the ministry in case of any threat to the Indian population living in these regions, sources told PTI.
Yemen, Libya, Bahrain and Tunisia have been witnessing violent anti-government protests in the last few weeks.
Foreign Secretary Nirupama Rao meanwhile said two meetings were held today and strategies could take shape over the next few days.
"We are concerned about nurses in Benghazi (Libya) and our ambassador has reached out to them. They are safe. We have 3,000 Indians in the city," she said.
"We have no consular presence in Benghazi. We are working on contingency plan, rest assured. The city is on course and also close to Egypt border," she tweeted on the microblogging website Twitter.
Rao also said India will also be talking to other countries particularly from European Union which have their nationals in Libya.
She said Ministry of External Affairs was also talking to various ministries concerned and coordinating closely with Ministry of Overseas Indian Affairs.
Rao said Government is also in the process of agumenting staff in its Tripoli mission including despatching an an Arabic interpreter from Delhi.
She also said the experience gained from contingency plans while dealing with the crisis in Kuwait in 1991 and Lebanon in 2006 is being put to use to deal with developing situation. PTI